African anti-corruption fight must, like China, have support from leadership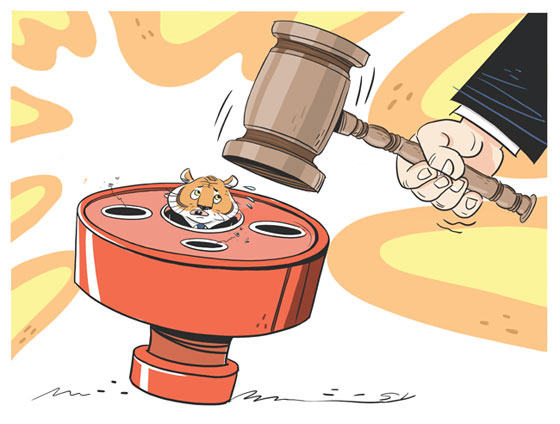 China's campaign against corruption under the leadership of President Xi Jinping has received admiration and envy in equal measure across the world. In Africa, it is a mixed bag, as governments and citizens reel under the weight of this problem while witnessing China's success in pulling off this campaign. To many in the continent, what has always been perceived as a Herculean task to clean up its institutions and people's confidence in the leadership is now doable. If there are lessons from China's record, it is the fight must start from the top, with a president willing to boldly step up to the challenge.
This is not to say Africa has not been trying to shrug off the shackles of corruption crippling its institutions and development — far from it. In addition to efforts by individual countries, the African Union adopted the African Union Convention on Preventing and Combating Corruption in July 2003. This convention entered into force August 2006, with the last signature appended in January 2017. Nevertheless, there is little to show for it with annual corruption index reports still indicating the practice is rampant.
Discord among the citizens is increasingly becoming evident. Countries have witnessed upheavals in the political landscape, among them Zimbabwe and South Africa. Corruption allegations have hounded leaders out of office. In Kenya, the general elections in 2017 were hotly contested, with top leaders aggressively campaigning on the platform of ridding the country of corruption and putting it back on the path of prosperity. These are indications citizens are impatient for some kind of change.
But when they look at China, Africans can't help but admire the victories witnessed there. Prior to his taking over, President Xi promised to crack down on both "tigers" and "flies", meaning the "broom" will sweep out crooked powerful leaders and lowly officials alike. A little more than five years down the line, his efforts have shown neither hesitation nor favoritism. Top officials have been arrested and prosecuted in accordance to the rule of law.
Noticeably, China's fight against corruptions gets its legitimacy from the top party leadership and adheres to the country's constitution. This is the key takeaway for Africa. Despite pressure from the citizens to the ruling elite to kick out the offenders, billions in illicit money is leaving the continent, undermining economic and social development. In addition, the income gap is widening as the political class fights to maintain the status quo. Indeed, there has been reluctance to strengthen institutions mandated to implement policies designed for this cause. In other instances, preventive measures are not adequate and thus the cases fail to be presented in court.
But the need for change is palpable. As a growing continent with a huge youthful population, the spread of vice has brought a sense of despondency to Africa, especially this group. There is urgent demand for industrialization and manufacturing together with infrastructure development, sectors that need heavy financing.
To accelerate investments into these sectors, African governments must fight corruption. Success on these fronts will not only restore confidence to the masses, but also build confidence among foreign investors.
There are notable success stories dotting the continent already. According to the Transparency International 2017 corruption perception index, nations such as Botswana, Seychelles, Cabo Verde, Rwanda and Namibia are fighting back the vice. They even scored better than countries like Italy, Greece and Spain!
The common thread running through these performances is a strong political leadership in the campaigns. They are committed to implementing anti-corruption laws and building strong institutions.
On the continent-wide front, the AU Summit that took place in January in Ethiopia ran under the theme "Winning the fight against corruption: a sustainable path to Africa's transformation". The campaign is in the capable hands of Nigerian President Muhammadu Buhari who was elected in 2015, having campaigned on the platform of "rooting out corruption in Nigeria" and "restoring security in the country." In the wake of this announcement, several high-ranking government officials have been suspended and investigations initiated.
His work is already cut out for him as he takes the reins in a continent eager to develop but curtailed by corruption. It is prudent to empower the youth as he has. They will be a fresh force in this fight.
It is also hoped lessons from China, especially President Xi's decision to start by cleaning the party ranks, will pass to Africa as the Communist Party of China strengthens its engagement with the continent's leading political parties. This can be easily proved through the scholarship opportunities extended to African party members — especially the youth, who get the chance to visit China and observe the benefits of this campaign.
The author is a political analyst working with Smartcomm Networks, a think tank in Kenya.
Most Viewed in 24 Hours
China stories