China has no intention of replacing the US, foreign minister maintains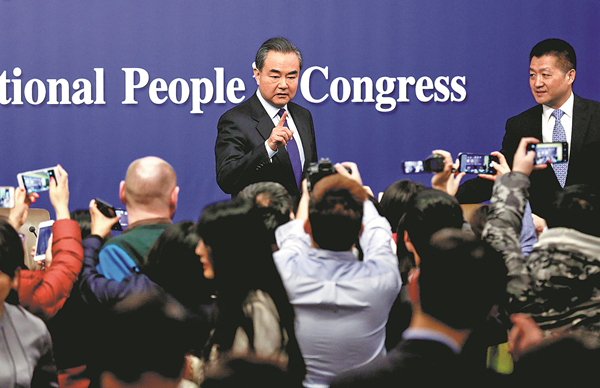 Foreign Minister Wang Yi has said China has no need or intention to replace the United States' international role, and he warned that if the US wages a trade war, it will "backfire".
Wang made the comment in a news conference on the sidelines of the annual session of the National People's Congress amid lingering global concerns over Washington's protectionist trade investigations and sanctions.
US President Donald Trump warned last month that the US will use "all available tools" to prevent China's economic model from undermining global economic competition, Bloomberg News reported.
In response, Wang said historical lessons have shown that waging a trade war, particularly in this globalized era, is the "wrong recipe" and will only backfire, as well as hurt others. "China surely will have justified and necessary reactions" in the event of a trade war, Wang said.
As the world's first- and second-largest economies, the two countries should shoulder responsibility for the people of both countries as well as in other countries, he said.
It is hoped that the two sides will be able to sit at a table with cool heads and find a win-win way out through constructive dialogue on equal footing, Wang added.
Speaking on China-US ties as a whole, Wang said there can be competition between the countries, but they don't have to be rivals and should be partners instead.
"Some in the US allege that China will replace the United States' role in the world. This conclusion is fundamentally wrong," Wang said.
At the news conference, the senior diplomat also spoke on recent attempts at media hyping that have targeted China, such as alleging China is exerting "sharp power" on the rest the world.
Wang said the West has made comments and predictions in past decades that hyped China's collapse or China's threats.
"As China grows, the 'China collapse theory' has collapsed and become an international laughingstock. Meanwhile, the 'China threat' theory, with its various sensational versions, is losing its market," he said.
The latest version of comments hyping China's threat is less convincing because facts are already persuasive, Wang said. China has contributed more than 30 percent annually of global economic growth and accounts for more than 70 percent of poverty relief efforts worldwide.
Those who do not harbor bias or practice double standards will see in China not a threat, but plenty of opportunities, and it is time the "China threat" theory was laid to rest, Wang said.