China's govt debt under control
Share - WeChat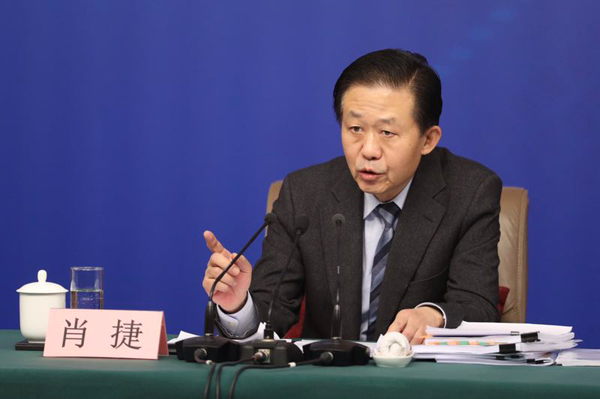 China is fully confident in fending off systemic debt risks and expects no apparent changes in government debt ratio in the coming years, Finance Minister Xiao Jie said on Wednesday.

The country's debt-to-GDP ratio has decreased to 36.2 percent in 2017, down from 36.7 percent in 2016, far below the so-called alert line of 60 percent internationally, said Xiao at a press conference.

He added that the government's outstanding debt has reached 29.95 trillion yuan ($4.7 trillion) by the end of 2017.

"China has formed a closed-loop system on managing local government debt including setting reasonably debt quotas, bolstering budget and risk management as well as controlling emergencies," he added.

"China will deal with illegal debt firmly as issuing bond is the only legal way for local government to raise fund," Xiao said.
China tax cuts to benefit individuals in 2018
In 2018, China will continue to carry out policies of slashing taxes and fees, and the total amount of taxes and fees cut to benefit individuals and enterprises is estimated to reach 1.1 trillion yuan ($173.83 billion), Xiao said.
Specifically, taxes will be cut by 800 billion yuan by reforming and improving the value-added tax system, raising the individual income tax threshold and by enhancing supports to micro, small and medium-sized enterprises, Xiao said.
In the meantime, decreased fees, estimated to reach 300 billion yuan, will be achieved by bringing order to government-backed funds, administrative fees and operating service charges, Xiao noted.
According to Premier Li Keqiang's Government Work Report, over the past five years China's slashing of taxes and fees had helped market entities save over 3 trillion yuan, and the past year had witnessed a 7.4 percent increase in the government's fiscal revenue.
The reason was, according to Xiao, the country's economic aggregate last year totaled up to 80 trillion yuan, growing 6.9 percent year-on-year. "The increase of economic vitality and improvement of corporate performances are fundamental to the growth of fiscal income," he said. "Meanwhile, Producer Price Index, or PPI, increased rapidly, bringing direct positive impact on the growth of tax income. Newly developed tax sources, as well as surging demands from home and abroad, also contributed to the increase on tax revenue.
"These signs all demonstrate China's economic development has not only advanced by volume, but also achieved improvements in both quality and performance.".
According to Xiao, this year the government will continue to implement policies to slash taxes and fees in order to release the burden on enterprises, bringing more vigor to market entities.
"By sacrificing the increase of fiscal revenue, we gain enterprise performance and market vitality," Xiao said. "This is the core of implementing policies of cutting taxes and fees."