Safety Chinese travelers' top concern
Share - WeChat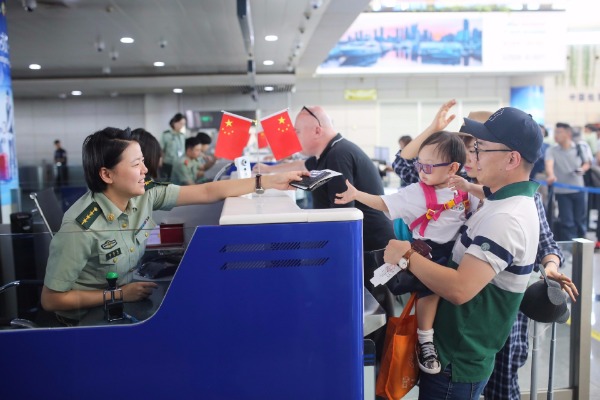 Safety has become the No 1 issue among China's outbound tourists, with most taking into serious consideration the security of destinations when making holiday plans, according to a report.
Online travel agency Ctrip received 2,191 requests for assistance on its Global Travel SOS platform in 2017, and 82 percent of those were from people traveling overseas, the report said.
The platform, launched in January last year, is a free service based on Ctrip's mobile app that offers 24-hour emergency aid during natural disasters, terrorist attacks and traffic accidents for users at home and abroad.
The report was released by the China Tourism Academy and Ctrip on Thursday.
Accidental injury, loss of personal belongings, certificate applications and language barriers were listed as the top four problems outbound travelers confronted.
Outbound visits by Chinese residents hit a new high of more than 130 million in 2017, up 7 percent year-on-year.
Revenue from outbound Chinese travelers in 2017 totaled nearly 736 billion yuan ($116 billion), a year-on-year increase of 5 percent.
Outbound Chinese travelers spent more than 5,800 yuan per capita in 2017, 7 percent over the previous year. Travelers departing from Beijing spent the most per capita at 6,817 yuan, followed by travelers from Shanghai; Suzhou, Jiangsu province; and Wenzhou, Zhejiang province.
Outbound travel has become a popular way for Chinese to spend their holidays given their rising living standards, preferential travel policies like visa waivers and growing number of international airline routes.
Dai Bin, president of the China Tourism Academy, said Chinese travelers today focus more on experiencing foreign cultures rather than simply shopping, and Chinese tourists abroad become "living name cards", as they enrich the knowledge of foreigners about China.
China is the largest source of tourists for 10 countries - Thailand, Japan, the Republic of Korea, Vietnam, Cambodia, Russia, Maldives, Indonesia, the Democratic People's Republic of Korea and South Africa.
Countries in Southeast Asia - Singapore and Malaysia, for example - remained popular with Chinese travelers in 2017, while Morocco, Tunisia, Turkey, Germany and Britain have tremendous potential to attract Chinese travelers, the report said.
Tunisia, for example, received 18,000 Chinese visitors in 2017, more than 150 percent more than the previous year, thanks to the country's visa waiver policy for Chinese travelers.