Russia-backed humanitarian 'pause' takes effect in Syria's Eastern Ghouta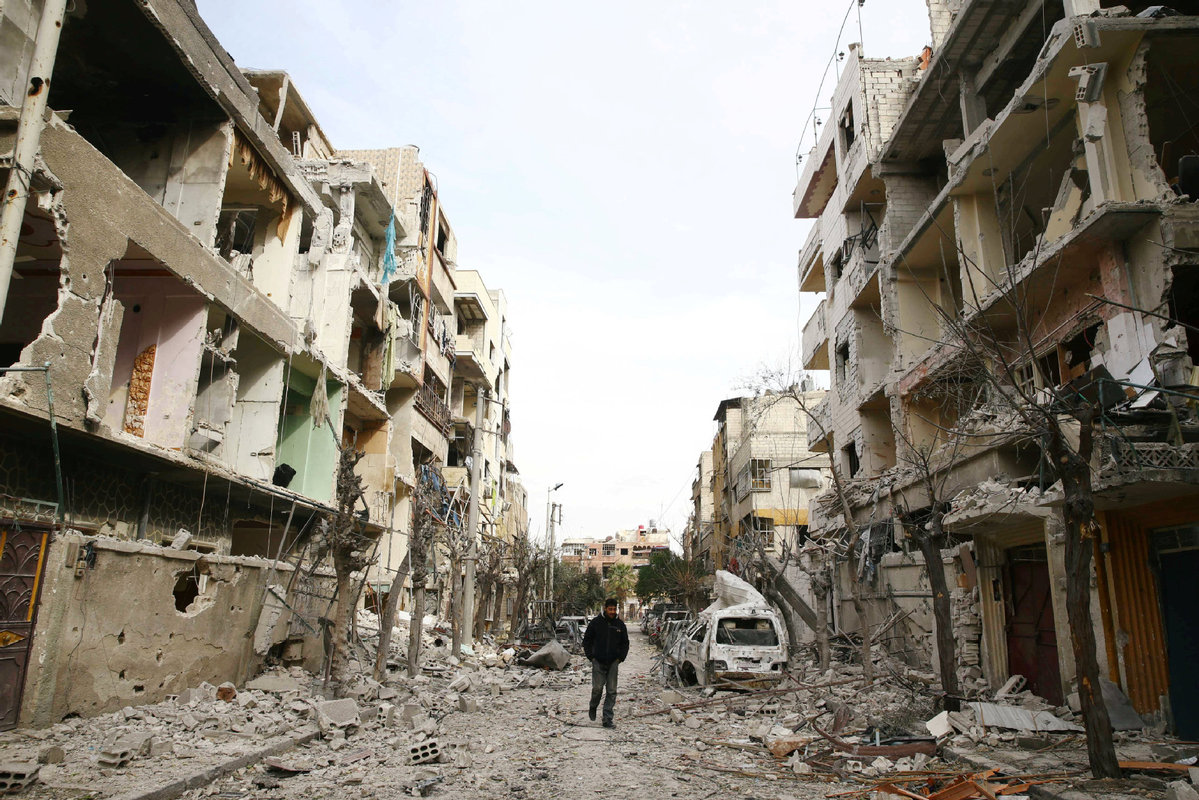 DAMASCUS - A humanitarian "pause" announced by Russia in Syria's deadly bombardment of Eastern Ghouta took effect on Tuesday, after the UN Security Council adopted a resolution for a monthlong cease-fire in Syria, amid reluctance from the rebels.
The daily five-hour respite, which began at 9 am, was announced by Russia to stop more than a week of airstrikes, artillery fire and rockets that killed more than 500 people.
On Monday, Russian President Vladimir Putin ordered a daily "humanitarian pause" in the region to allow evacuation of civilians from the zone held by militants, Russian Defense Minister Sergei Shoigu said.
Russia's state news agency Tass said Russian military police on the ground have set up the humanitarian corridor with Syrian troops.
Moscow said it would allow some of the nearly 400,000 people living in the rebel-held area to leave the battered enclave through safe corridors.
The Kremlin said on Tuesday that the operation of an evacuation route would depend on rebel forces whom it accused of holding civilians there hostage and of sabotaging the escape route.
The announcement came just a couple of days after the United Nations Security Council adopted Resolution 2401, which requires all parties in Syria to immediately cease clashes and provide a sustained humanitarian break for at least 30 days.
The UN resolution has excluded terror-designated groups such as the Islamic State and the al-Qaida-linked al-Nusra Front, as the battles against those groups have continued.
The Russian announcement didn't seem to fully resonate with the Islam Army, the major rebel group in Eastern Ghouta, as the head of its political body, Mohammed Alloush, said that the Islam Army doesn't reject the Russian proposal of a cease-fire but doesn't accept the evacuation of civilians through the humanitarian corridors, saying it wasn't included in the UN Security Council resolution.
However, he said that the wounded and those in urgent conditions can evacuate, but the civilians, in general, will not leave Eastern Ghouta, according to Russia's Sputnik news agency.
Meanwhile, Kremlin spokesman Dmitry Peskov said that "the situation in Syria... causes extreme concern. The terrorists who are in Eastern Ghouta, do not lay down their arms, they keep the local population hostage, and this is the reason for the very tense situation".
The rebels' mortar shells that target Damascus haven't stopped either, with 48 mortar rounds slamming several parts of Damascus on Monday.
The "pause" falls short of the monthlong cease-fire the UN had supported in a bid to stop one of the bloodiest assaults in Syria's seven-year-old conflict.
"Five hours is better than no hours, but we would like to see an end to all hostilities extended by 30 days, as stipulated by the Security Council," UN spokesman Stephane Dujarric said.
Xinhua - Afp