Focus turns to UN Syria resolution implementation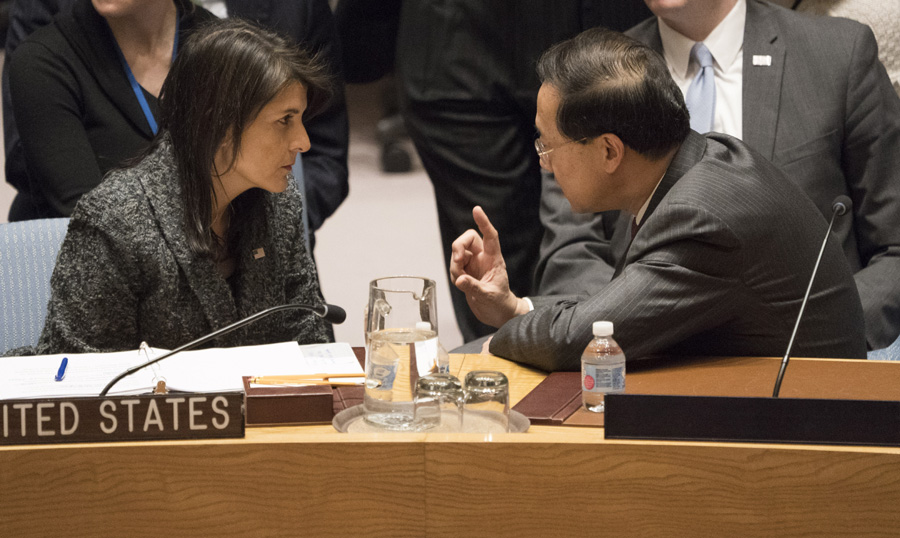 UNITED NATIONS - After the adoption of a Security Council resolution which demands a cessation of hostilities of at least 30 days in Syria, all eyes are on its implementation - or non-implementation.
China's Permanent Representative to the United Nations Ma Zhaoxu on Saturday called for the full implementation of the resolution.
"Going forward, the international community should work together to ensure the full implementation of the just adopted Resolution 2401 so that it can play a positive role in improving the humanitarian situation in Syria," Ma told the Security Council after the vote.
He commended the unity of the council over the issue and said China is keen for the council to remain united as well as to establish a consensus on the Syrian issue, push for Syrian parties to consolidate the momentum for a cease-fire, strengthen cooperation on combating terrorist groups, advance the process of political settlement, and play a constructive role in maintaining peace and security in Syria as well as across the region.
A political settlement is the only way out, he stressed.
"The international community should support the Syrian parties in seeking a swift solution that is acceptable to all parties under UN mediation through a Syrian-owned and Syrian-led political process to end the suffering of the Syrian people as early as possible."
Resolution 2401 demands that all parties cease hostilities without delay for "a durable humanitarian pause for at least 30 consecutive days throughout Syria" to enable the safe, unimpeded and sustained delivery of humanitarian aid and services and medical evacuations of the critically sick and wounded.
Ambassadors of other countries echoed Ma's call for the implementation of Resolution 2401.
Mansour al-Otaibi, the Kuwaiti ambassador to the United Nations, whose delegation drafted the resolution together with Sweden, said that the international community must monitor the implementation of the resolution on the ground.
"This is a small step in alleviating the suffering of the people of Syria. There still remains a lot of work to do to end the crisis," Otaibi, president of the Security Council for the month of February, told reporters. "This resolution is the least we can do for the Syrian people, the minimum the Security Council can do."
"We hope the council can build on this united position today to bring an end to suffering in Syria," he added.
Stephen Hickey, who represented the United Kingdom at Saturday's vote, said: "This resolution demands all parties cease hostilities without delay. That means right now. Immediately."
Russian Ambassador to the United Nations Vassily Nebenzia said: "Of course we prefer the cease-fire to start immediately.
"But let's be realistic," he added. "We would like to encourage the parties to work for it, to engage in the implementation - full and comprehensive - by all parties."
Xinhua