Greener China
By Pan Zhongming and Lucie Morangi in Nairobi, Fu Jing in Brussels and Zhong Nan in Beijing | China Daily Europe | Updated: 2018-02-23 22:52




Fresh measures are on the way as country works diligently to transform Party's new visions into action to improve the environment and ensure green growth
China has made every effort to turn "Beautiful China" and "ecological civilization" - new visions put forth by the Communist Party of China during its national congresses in 2017 and 2012, respectively - into actions to cope with environmental woes brought on by decades of rapid economic growth.
Fresh measures are expected to be approved by deputies attending the upcoming session of the National People Congress, China's lawmaking body. The Party has already said pollution control will be one of China's "three tough battles" for the next three years.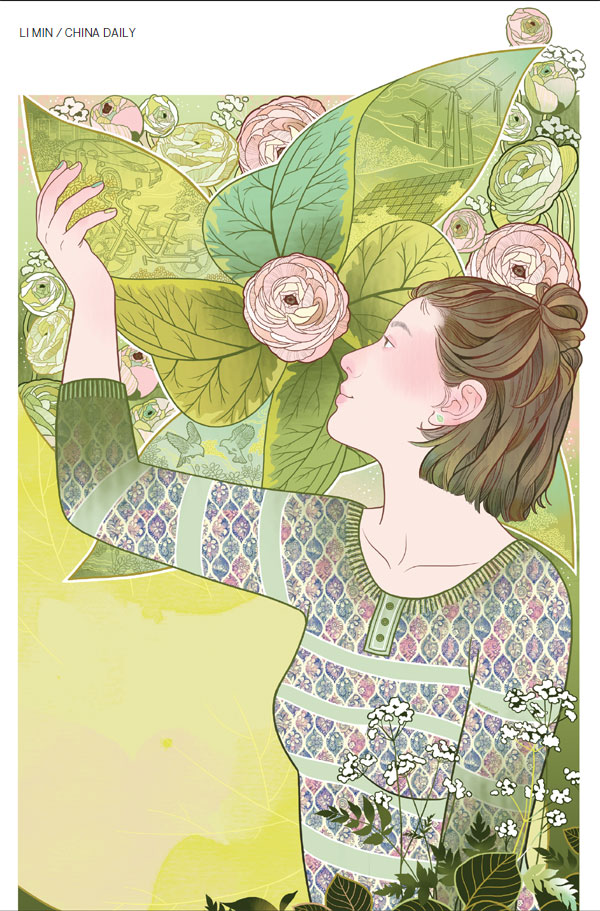 The country aims to significantly cut emission of major pollutants and improve the overall ecological environment. To win the battle, efforts are focused on adjusting the structure of industry, energy and transportation, as well as eliminating outdated capacity, strengthening energy conservation and related assessments, and making the skies blue once again.
The CPC has incorporated "Beautiful China" into its two-stage development plan for the building of a great modern socialist country. The country has passed its toughest-ever environmental protection law and introduced a "river chief" system to protect water resources.
China has continued its efforts to prevent and control water pollution and adopted an action plan for preventing and controlling soil pollution. Central government inspections of environmental protection accountability have been launched, and violations of environmental protection laws are investigated and prosecuted, giving impetus to deeper efforts to protect the environment.
To make the skies blue again, China has brought forth radical measures to address pollution caused by coal burning, including upgrades to coal-fired power plants to achieve ultralow emissions and energy conservation. It has replaced the use of coal with electricity and natural gas in more than 3 million households, and has shut down all small coal-fired furnaces in established districts of cities at the prefectural level and above.
Meanwhile, China has firmly stood together with the international community to protect the hard-won Paris Agreement to cope with global climate change, although the United States has announced its withdrawal.
Applauding China's stance, Erik Solheim, executive director of the UN Environment Program, believes the move will open up opportunities. "A shift away from dirty, polluting practices will be a huge benefit for public health. China also stands to gain from being on the cutting edge of new sustainable technologies like renewable energy and clean transport. China will also gain from better energy security."
In strict adherence to government policies, Chinese companies have emerged as winners in terms of technological advancement, particularly in the steel and coal plants, among other sectors.
"What's important here is that we're starting to see more and more data supporting the shift to a green economy," Solheim says. "It proves beyond a doubt that a more sustainable or environmentally friendly business practice does not mean business will suffer. In the past, people have looked at positive environmental action as something that is costly, but with more examples from China, attitudes will gradually change. It also shows the private sector is crucial in furthering the evidence base for positive change."
It is expected that the Chinese attitude will snowball and bring sweeping changes toward combating climate change globally.
During the third meeting of the UN Environment Assembly in December, held in Nairobi, Kenya, the environment agency underscored that concerted commitment will see cleaner air for 1.4 billion people and $18.6 billion (15 billion euros; £13.3 billion) of investments coming online.
At the forum, which is the world's highest decision-making body on the environment, two Chinese environmental projects and one individual won the UN's top environmental awards. The awards went to the Saihanba Afforestation Community, Mobike and Wang Wenbiao, chairman of Elion Resources Group.
The Saihanba Afforestation Community clinched the Inspiration and Action Award due to its efforts to transform degraded land into a lush paradise. Saihanba, which covers 92,000 hectares, had by the 1950s become bare due to excessive logging, which allowed desert storms to blow into Beijing from the northern deserts.
In 1962, hundreds of foresters began reclaiming the land by planting trees. Three generations of these foresters have increased forest cover by 12 to 80 percent. The forest now supplies 137 million cubic meters of clean water to the Beijing and Tianjin areas annually, while discharging 550,000 metric tons of oxygen. It has spurred economic growth with green sectors, generating $15.1 million in 2016 alone.
"In the 55 years the farm has existed, people have been growing trees and protecting the forest like their own children," says Liu Haiying, director of the Saihanba Forest Farm. "I believe that as long as we continue to promote ecological civilization, generation after generation, China can create more green miracles like Saihanba and achieve harmony between humans and nature."
Mobike won the Entrepreneurial Vision Award for exploring market-driven solutions to air pollution and climate change. According to Hu Weiwei, the founder and president of the company, China's leading bike-sharing service provider rode on the government's policies and people's intrinsic desire to enjoy bike-riding once again.
"China used to be a kingdom of bicycles. We just offered a solution in tandem with the government's policy and also the people's willingness to change their lifestyles. This, in fact, is behind our success," Hu said on the sidelines of the UN Environment Assembly meeting.
Mobike is the world's largest bike-sharing company. After two years of operation, the platform claims over 100 million registered users in more than 100 cities worldwide, recording more than 20 million rides a day.
"It is a tremendous honor to receive this award," said Hu. "Combating climate change, through (pursuing) the United Nations sustainable development goals, is one of the world's most important priorities, and we commit to using our technology and innovation to help governments and businesses join us in creating a pedal-powered green economy."
According to figures collected by the company, Mobike users have cycled more than 18.2 billion kilometers, thereby avoiding 4.4 million tons of carbon dioxide emissions - equivalent to taking 12.4 million cars off the road for a year.
Mobike has also teamed up with US chemical company Dow to conduct research on creating more eco-friendly bikes.
The Lifetime Achievement Award was given to Wang, 61, chairman of Elion Resources Group - China's largest private green enterprise, with total assets of over $1.6 billion - for his leadership in driving the green industry.
Wang, known in China as "Son of the Desert", bought the Hangjinqi Saltworks in the Kubuqi Desert in 1988. He quickly realized that the saltworks' financial woes, and the region's challenges to people's livelihoods, came down to the desert: Sand was interfering with production and making it difficult to transport products out of the area.
He partnered with local communities and the Beijing government to combat desertification in the arid area, which covers around 18,600 sq km in the Inner Mongolia autonomous region. Centuries of grazing had stripped the land, leaving around 70,000 people struggling to survive. Now around two-thirds of the desert has undergone "green" transformation, and local communities have jobs and a more pleasant environment. UN Environment research estimated that the project has a net value of $1.8 billion over 50 years.
The project is seen as underscoring the role that private enterprises can play in returning a healthy profit while making large contributions to environmental conservation.
"My goal in life is to contribute to combating desertification for a greener world, with more lush mountains and clear water, which I see as gold and silver," Wang said.
The UN awards captured and highlighted the concerted efforts made between the Chinese government and the private sector to build a better world.
Solheim, the UN Environment Program executive director, says: "The message is very clear: There is not a single environmental problem that we cannot innovate our way out of. The solutions will have to come from greater innovation and entrepreneurship. I think that's a very strong and inspiring message."
Though neither easy nor inexpensive, these bold decisions have to be made, he wrote in a report presented at the Environment Program forum, adding that the relationship between prosperity and environment cannot be traded off anymore.
"Investing in green technologies is a strategy for long-term profitability and prosperity for all." Solheim says.
Meanwhile, China is working to rein in air pollution by steel companies. Zhou Yusheng, a professor at the Central Iron and Steel Research Institute Group in Beijing, says the country imports around 10 million metric tons of steel products annually from other countries to assist its efforts to cut environmental impact.
"It has also been trying to reduce the capacity of those low-end steel products and replace them with high-end special steel products to boost China's equipment manufacturing industry, as well as compete evenly with established rivals, including those in Sweden, South Korea, the United States and France."
China closed down more than 600 factories that produced inferior steel, with a production capacity of 120 million tons, between January and June last year, data from the China Iron and Steel Association show.
Liu Zhenjiang, secretary-general of the association, says that in addition to shutting down outdated production lines, manufacturers such as Taiyuan Iron and Steel Group and China Baowu Steel Group have either upgraded their production facilities or invested in new plants with the least emissions and highest efficiency.
"High-tech solutions have been used to reduce harmful gases, while wastewater is recycled to protect the environment. Technology is also being used to see if steel slag, or waste from the production process, can be turned into artificial reefs to boost marine wildlife," Liu says.
He adds that despite the model being in a very early stage - thus eating up time and money to deploy better equipment, including newer technologies such as the latest turbine power generation equipment - it will be sustainable and adapt to market changes. "Moreover, promoting the construction of steel-structured buildings certainly can be an effective way to cut construction waste and protect the environment. It also has the value of being a strategic reserve."
Smart systems and automation helped to curb pollution and increase energy efficiency in many steel and iron plants throughout China in 2017, especially large steel companies, which have cooperated with universities and research institutions in an effort to develop high-quality steel products with lower environmental damage, Liu says.
Zhao Zhenrui, director of the information and automation department at Tangsteel Co, a subsidiary of HBIS Group Co, says the company has rolled out automated systems and used big data to check emissions at its automobile steel plate production plants to comply with tighter environmental regulations.
"China Baowu Steel Group and Magang (Group) Holding Co Ltd have already developed smart systems," Zhao says. "Magang invested 14 million yuan ($2.2 million; 1.8 million euros; £1.6 million) in robotic equipment last year," says Zhao.
Chinese are already beneficiaries of these efforts and are witnessing clearer skies. According to the Beijing Environmental Monitoring Center, skies were blue more often last year, with 226 days of good air quality air in the city, an increase from 176 days in 2013.
Contact the writers through lucymorangi@chinadaily.com.cn