France unveils tough measures for asylum-seekers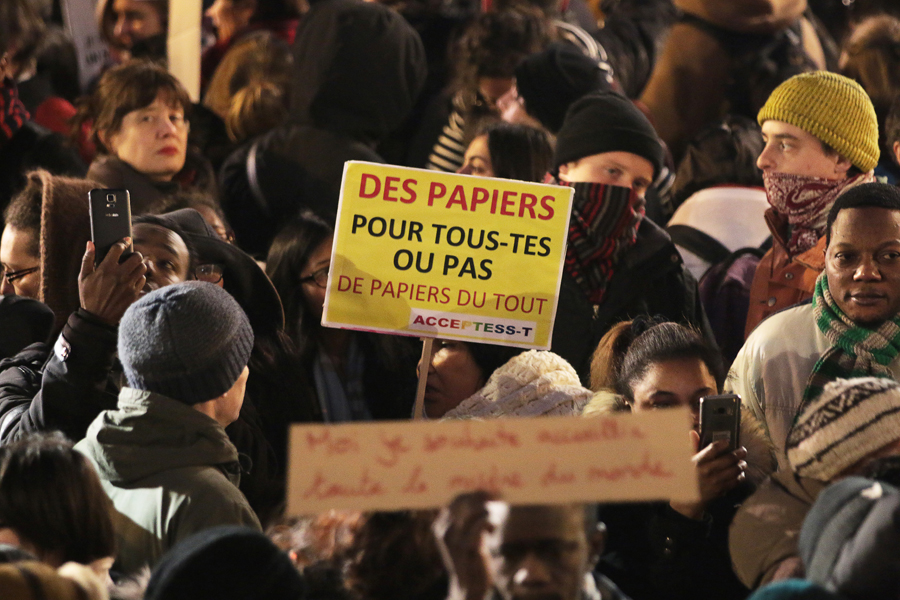 The government of French President Emmanuel Macron unveiled tough proposed immigration rules on Wednesday that human rights organizations say will victimize asylum-seekers.
The bill, which was presented at a cabinet meeting at Elysee Palace, will shorten the process of deporting people who do not qualify for asylum, while improving living conditions for those who do.
The Associated Press said Interior Minister Gerard Collomb described the plan as "balanced" and "aligned with European procedures".
"If you don't control the migratory flux, you can't offer a destiny" for the nation's youth, he said on BFM TV.
Collomb said deciding fast whether an asylum-seeker can stay and quickly removing those who cannot is more humane because it removes uncertainty, Xinhua News Agency reported. Currently, it is taking about a year for an application to be reviewed. The new rules call for a decision within six months.
"For those for whom asylum is granted, it is better to be able to begin integrating into French society as early as possible," France 24 reported Collomb as saying.
"But for those deported, in six months you haven't lost your family roots, you haven't lost contact with your country, and so it is better that the time limit be shorter ..."
Pro-migrant activists claimed the shorter process will make it harder for asylum-seekers to defend their rights and appeal decisions and groups including the French Human Rights League held street protests in Paris on Wednesday.
AP reported that Francoise Sivignon, president of Doctors of the World, said the bill was "packaged to better expel" and Xinhua reported that staff at the French Office for the Protection of Refugees and Stateless Persons went on strike on Wednesday in protest.
Under the proposed rules, France will be able to detain people for up to 90 days if they enter the country illegally, up from the current 45. And asylum-seekers must apply for refugee status within 90 days of arriving, down from 120. In addition, people crossing the border illegally can be fined 3,750 euros ($4,600) or imprisoned for up to a year.
The proposed bill will be debated in April.
Government figures show that more than 100,000 people applied for asylum in France in 2017, up 17 percent on 2016. Most were from Albania, Afghanistan, Haiti, and Sudan. Around 36 percent won refugee status.
France 24 said the row over the proposed bill will test the unity of Macron's government.