Trains kept as clean as a whistle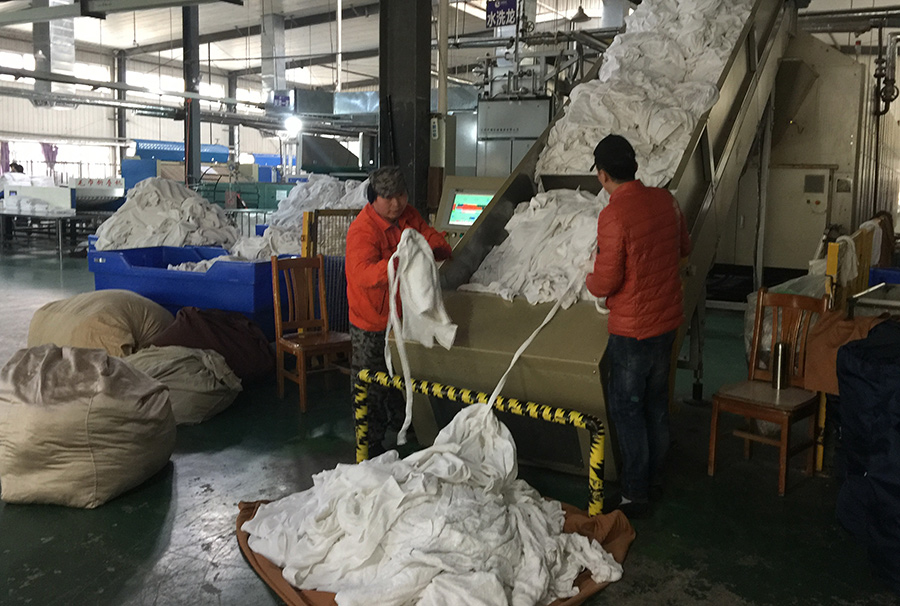 Chongqing laundry factory working overtime to wash covers, bedding
Around 2 pm, a van carrying a full load of used train bedding pulled into Xing Cheng Laundry Factory in a northern suburb of Southwest China's Chongqing municipality.
"Usually we have only one delivery a day," said factory owner Zhou Yipei. "But during the Spring Festival travel rush, we expect deliveries at any time."
The factory, which does contract work for the local railway company, washes the bedding from trains at Chongqing Caiyuanba Railway Station and Chongqing West Railway Station.
Spring Festival, or Chinese Lunar New Year, fell on Feb 16 this year, seeing hundreds of millions of Chinese returning to their hometowns for family gatherings, the largest annual human migration in the world.
The festival travel rush, which began on Feb 1, is expected to last for 40 days. Rail is still the major mode of transportation for most domestic travelers.
According to the railway's hygiene regulations, seat covers and the bedding of sleeper trains must be changed after each use. As the number of trains has increased during the rush, the laundry's workload has also become heavier.
It is estimated that the factory will wash over 1 million pieces of bedding during the rush.
"The factory is now working around the clock," Zhou said. "We have about 140 workers. Two shifts. No weekends. No holidays."
Though the laundry factory is equipped with large washing, drying, pressing and folding machines, some work must be done by hand, such as sorting.
After the used bedding arrives, several workers need to sort it piece by piece into "normal dirty" and "very dirty", and find out if there are any sharp objects.
The manager said they have found knives, remotes and even wallets. The factory will keep the lost objects and return them to the railway lost and found departments.
After sorting, the "normal dirty" group will go directly into the large washing machines, while the "very dirty" ones will be dealt with by hand first and put into smaller washing machines with special functions.
According to the regulations, a piece of cloth with a stain bigger than 0.5 centimeters in diameter must be rewashed.
"Oil stains and shoe prints are the most difficult ones," the manager said. "If we cannot wash them off, the bedding cannot be used again."
The factory is also the first environmentally friendly laundry factory in Chongqing, and is equipped with a line operation, water treatment and recycling systems.
China Railway Chengdu Group Co Ltd, a subsidiary of China railway Co Ltd that manages Chongqing, Sichuan and Guizhou provinces, is expected to handle 36.5 million passengers this year, an increase of 4 million people over last year.