Thousands enjoy UK capital's huge Chinese New Year celebration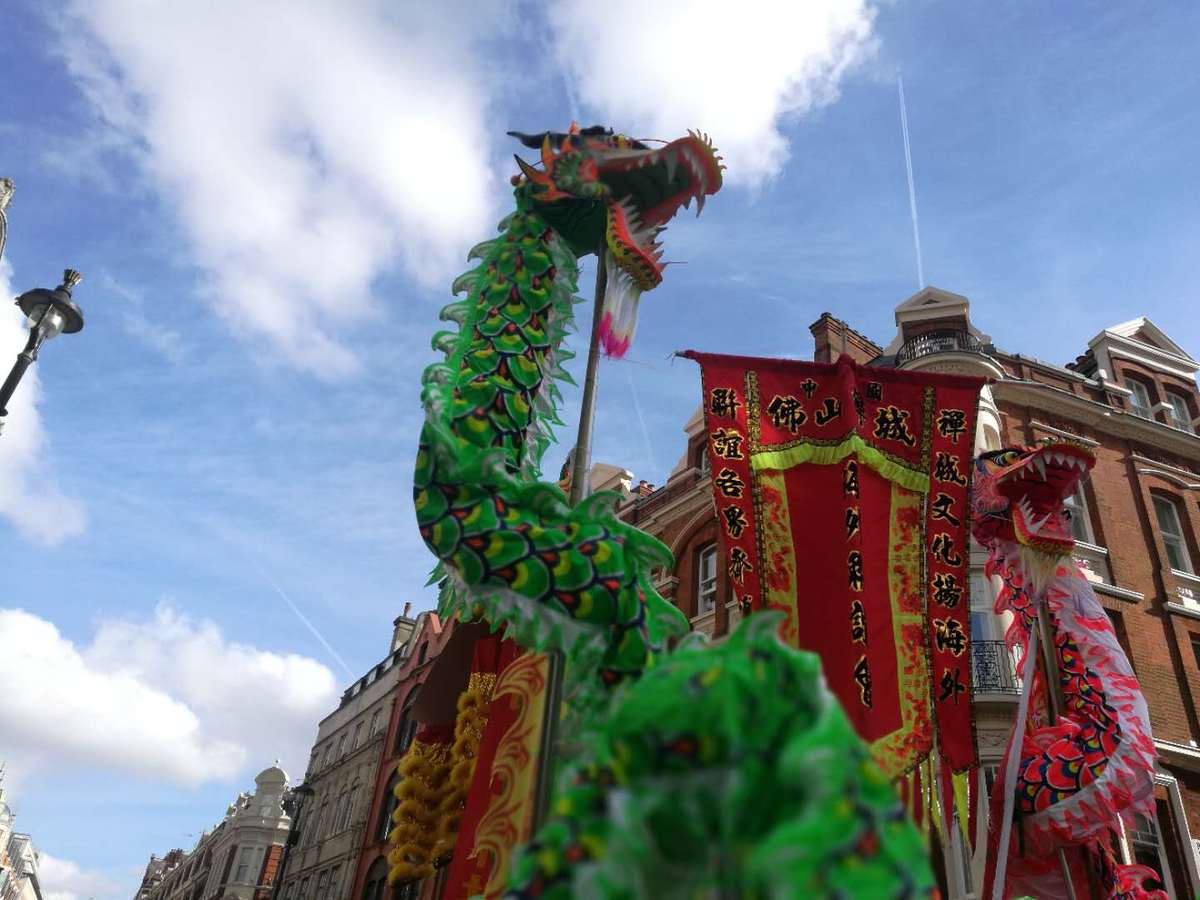 Thousands of people from all over the world flocked to London's Trafalgar Square on Sunday to experience lion and dragon dances, parades, and performances marking the start of Spring Festival and the Year of the Dog.
The celebrations, which organizers claim are the largest outside Asia, started with an iconic Chinese New Year parade that featured 50 Chinese dragon and lion dance teams making their way from Trafalgar Square, through London's West End, to Chinatown.
Stage performances began at noon in Trafalgar Square, with firecrackers heralding the start of the New Year celebrations at that location later on Sunday.
Liu Xiaoming, Chinese ambassador to the United Kingdom, said that the celebrations highlight China's rich heritage, the mutual appreciation between the eastern and western civilizations, and the ever-deepening UK-China relations.
Addressing thousands of spectators in Trafalgar Square, Liu said the celebrations has drawn people of all cultural backgrounds together and turned the London landmarkinto "a big melting pot of eastern and western civilizations".
"Here in Trafalgar Square, as we come together to celebrate the Chinese New Year, we have the best opportunity to increase mutual understanding, build closer bond and pass on our friendship from generation to generation," Liu said.
Visitors witnessed the ritual in which important guests dotted the eyes of lions, symbolically bringing them alive so they could perform dances, including a gravity-defying dance on high poles. The performances also featured acrobatics, traditional Chinese dancing, and music.
Pop-up shops and restaurants surrounded Trafalgar Square, offering visitors authentic and diverse regional Chinese food and the chance to buy traditional souvenirs and colorful decorations that included delicately made paper animals and bright-red Chinese lanterns.
The celebrations were particularly popular among families with small children. Many Chinese students also gathered with classmates and friends at the celebrations, which offered many a glimpse of the familiarity of home.
This year's celebrations, which were organized by the London Chinatown Chinese Association, were themed "celebrating the 'golden era' for UK-China Relations", referencing a phrase that became popular during President Xi Jinping's state visit to the UK in October 2015.
Chu Tin Tang, president of the London Chinatown Chinese Association, said such a celebration "consolidates the sentiment" of the deepening ties and friendship between the nations.
Sadiq Khan, mayor of London, added that Chinese New Year is always a joyous time in the city's cultural calendar.
"London is open to all people and all communities. That's why I'm so proud of the Chinese New Year festivities here in the capital," said Khan, who added that he hopes to visit China during his term as mayor, to play his part in strengthening bilateral economic and cultural ties.
The streets of London's Chinatown, near Trafalgar Square, were also filled with visitors who went there to enjoy Chinese food and participate in interactive games, workshops, and educational activities.
Visitors got to hear performances of Chinese music, watch martial arts displays, practice calligraphy, and take photos alongside performers in various Chinese costumes that included representations of the panda and lion.
The Year of the Dog in the Chinese zodiac is important because dogs are auspicious in Chinese culture. They symbolize the coming of fortune. People born in the Year of the Dog are said to be friendly, sincere, loyal, and dependable.
Outside London, cities with large Chinese populations also held celebrations.
Manchester hosted a parade, also on Sunday, featuring a dragon procession, martial arts, dances, and fireworks. Manchester's Centre for Chinese Contemporary Art and the University of Manchester Confucius Institute both put on family-friendly activities and hosted Chinese food stalls. Liverpool also saw its Chinatown decorated with lanterns and colorful lights. And there was an exhibition of Chinese lanterns at Edinburgh Zoo.
cecily.liu@mail.chinadailyuk.com