People recognized with UK honors share their experiences
Share - WeChat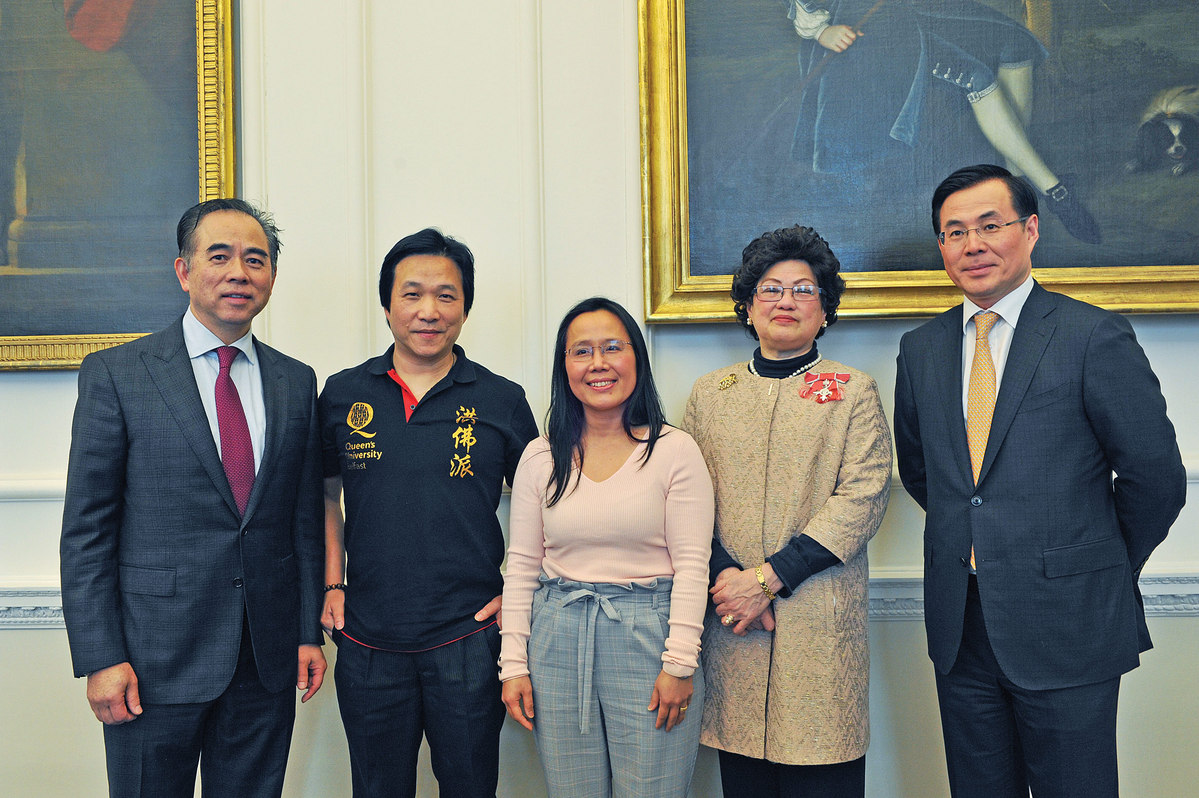 Twice a year, more than 1,000 people from across the United Kingdom are honored by Queen Elizabeth II for their contributions to British society in a range of fields that include charity work, sport, technology, and entertainment.
Some people are rewarded with knighthoods, others with Member of the British Empire medals (MBEs) or Commander of the British Empire medals (CBEs).
The awards are presented by a member of the royal family and the recipient is then entitled to use the award's initials after his or her name in communications.
The UK government has expressed concern that too few people from the black, Asian, and other minority ethnic communities are being recognized for their contributions to society. A recent census found that people identifying as black or Asian comprise 12.8 percent of the UK population, a community that received 9.3 percent of the honors handed out on Jan 1. That number was down from the 10 percent on the honors list prepared six months earlier.
Helen Ewen, head of the honors secretariat, which is part of the Cabinet Office, said organizers would like to see more people honored from Britain's Chinese community. Before people can be honored, they must be nominated by a member of the public. They are then considered by a government committee.
Five Chinese recipients share their stories about how it feels to the awarded an honor.
TONY LAW MBE, SERVICES TO THE CHINESE COMMUNITY IN SOUTHEND
Tony Law has lived in Southend, Essex, for the past 45 years, he was awarded an MBE in the 2016 New Year's Honours list.
As president of the South East Essex Chinese Association, Law volunteers to support the integration of the Chinese community in Southend and ensures the local Chinese association and other communities work closely together.
"The Chinese community in Britain as a whole has done a lot of work behind the scenes without people knowing or recognizing," Law said. "I am very pleased to get such an honor and there are other people doing similar work without being recognized."
LIU YUK-SHAN BEM, FOR SERVICES TO CULTURAL DIVERSITY AND EDUCATION IN NORTHERN IRELAND
Liu Yuk-shan arrived in Belfast, Northern Ireland in 1981. After working as a chef for 20 years, Liu took a course at Belfast Metropolitan College to improve his qualifications so he could teach information and communication technology. He became the first Chinese ICT tutor in the Dairy Farm Learning Centre in Belfast.
Liu has also set up a Chinese lion dance club to promote Chinese culture, cultural diversity, and inclusion. More recently, he has set up a club in Hong Kong to promote Western culture.
He said: "I want to organize multicultural events to try and bring people from different backgrounds and ethnic minorities to showcase their culture."
Liu believes that multiculturalism can help to reduce racism.
CHAN SAM-MOI MBE, FOR SERVICES TO COMMUNITY COHESION
Following the deaths of 23 Chinese cockle pickers in Morecambe Bay in 2004, Chan Sam-moi set up Hua Xian (Good of the People) Society to help the integration of the invisible and marginalized Chinese community with public services and other faith and ethnic groups.
"I don't want to just help the Chinese community, but also bring together a bigger community," said Chan. "I will try to help and give advice where I can."
She also aims to open up the Chinese culture to local people. And she is the driving force behind a local Chinese language school, an elderly persons' luncheon club, and a program of celebrations, including Chinese New Year.
Dr YEN ANDERSON BEM, FOR SERVICES TO SAFEGUARDING CHILDREN AND PREVENTION OF DOMESTIC VIOLENCE IN LEEDS
Since being awarded a BEM Yen Anderson, a general practitioner from Leeds, said she has seen a lot of pride from her family, friends, and colleagues.
"It's been a wonderful feeling for me," she said. "I have never thought I would be in this situation, I'm just doing my work, so that has been very special for me. I will be carrying on doing what I do."
Anderson has contributed immensely to safeguarding services across Leeds and was recognized for her ongoing work to ensure the safety of families in the city.
Prof YANG GUANGZHONG CBE FOR SERVICES TO BIOMEDICAL ENGINEERING
As co-founder and director of the Hamlyn Centre for Robotic Surgery, Yang Guangzhong, has created a unique, global center of excellence focused on developing safe, effective, and accessible imaging, sensing and robotics technologies with the potential to reshape the future of healthcare for both developing and developed countries.
"I don't know who nominated me, but for me, it is a recognition of the research community in the UK," Yang said. "I'm delighted to take the leadership in the UK and also have the link in China."
Yang works at Imperial College in London.