Xi exchanges Spring Festival greetings with Vietnamese counterpart
Share - WeChat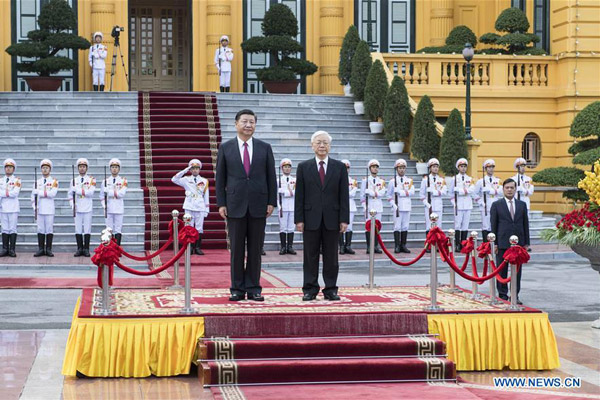 BEIJING -- President Xi Jinping exchanged Spring Festival greetings on Thursday with General Secretary of the Communist Party of Vietnam (CPV) Central Committee Nguyen Phu Trong, highlighting fruitful results achieved in the development of bilateral ties.
"As the Spring Festival, a traditional festival celebrated by both the Chinese and Vietnamese people, draws near, on behalf of the Communist Party of China (CPC) and the Chinese people and in my own name, I extend my sincere greetings and best wishes to comrade General Secretary, and via you to the Communist Party of Vietnam and the Vietnamese people," Xi said in his message to Trong.
Xi, who is also general secretary of the Communist Party of China Central Committee, said the two countries made a major step in aligning their development strategies of the "Belt and Road Initiative" and the "Two Corridors, One Economic Belt", and reached the target of $100 billion for their two-way trade in 2017.
Personnel exchanges between the two sides neared 10 million person-times in 2017, and people in both countries felt a growing sense of gain from the development of bilateral ties, the Chinese leader said.
Noting 2018 is the 10th year since China and Vietnam established their comprehensive strategic partnership of cooperation, Xi said: "Looking into the future, the CPC is willing to work with the CPV to strengthen the political lead in developing China-Vietnam relations, carry forward traditional friendship, promote all-round cooperation and continuously expand the scope and depth of the development of bilateral ties."
The development of China-Vietnam ties, he added, should be aimed at the well-being of the two peoples and the development of the socialist cause, and contribute to the progress of human society.
High-level exchanges, and frequent contact between the top leaders of the two countries in particular, have been playing a key strategic role in guiding the development of bilateral relations, Xi said.
"I'm willing to maintain close contact with comrade General Secretary in a joint effort to promote the stable long-term development of the China-Vietnam relations and lift them to a higher level," he said.
Expressing his best wishes to Xi, the CPC, as well as the Chinese people, Trong said his country's relations with China have maintained a sound momentum in 2017 marked by top leaders' visits and positive advancement in various areas of cooperation.
Noting 2018 will be a year of great significance for Vietnam-China relations, Trong said he is willing to join Xi in strengthening guidance to departments at all levels and building on what has already been achieved in bilateral cooperation.
The Vietnamese leader suggested that the two countries further consolidate political mutual trust, raise the level and quality of pragmatic cooperation in all fields, and continue to strive for the sustainable improvement of Vietnam-China comprehensive strategic partnership of cooperation.