Works by Chinese artist celebrate van Gogh's genius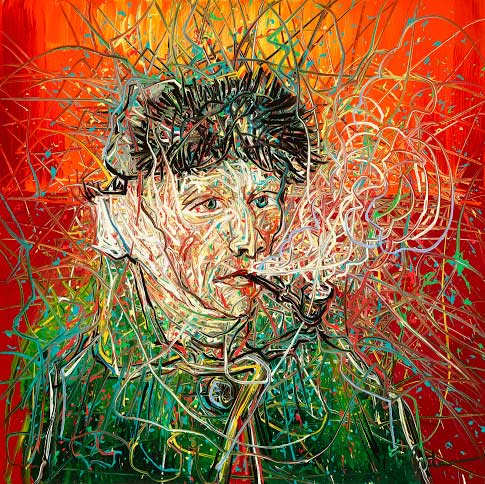 An ardent admirer of Vincent van Gogh, contemporary Chinese artist Zeng Fanzhi created a series of vibrant new paintings for a special exhibition at the Van Gogh Museum in Amsterdam.
The select presentation started on Oct 20 and lasts until Feb 25.
It displays five works, either inspired by Van Gogh's famous paintings or using a similar theme, to pay tribute to the legendary Dutch artist in a special way.
Three portraits of Van Gogh, selected from six that Zeng painted from Van Gogh's original self-portraits, are spotlighted in the exhibition.
Van Gogh's style, appearance and personality are united in his many self-portraits, and Zeng replicated the Dutch artist's works before covering them with his own, distinctive, swirling lines.
According to Zeng, 54, by paying homage to the original pieces, he wanted to experience the way Van Gogh looked at himself, and the creative exercise made him familiar with the thought processes of the great post-impressionist master.
Zeng then added layers of his signature lines, until the image was again covered up, as if placing his identity over that of Van Gogh, before he finally rebuilt the image to conclude the "visual dialogue".
Self-portraits are an extremely personal form of creative expression for Zeng, who has explored his own likeness through them during different stages of his career.
"It's a process of observing and understanding myself better," Zeng said.
Besides Zeng's homage portraits, a painting inspired by Van Gogh's famous piece Wheatfield with Crows is showcased next to the original, as both artists have sought inspiration in landscapes.
The last piece, called Boots, was created by Zeng in 2009 and is put next to Van Gogh's still-life painting Shoes.
In Zeng's works, which come alive with their sinuous lines, the modern artist links his own style and identity to the life and work of Van Gogh.
"Before now, my understanding of Van Gogh was as 'a great artist'," Zeng said before the launch of the exhibition.
"But through the creation of these works, I found that I gradually had a deeper understanding of him-not the literal kind, but experiencing, as an artist, some momentary emotions of another artist."
A native of Wuhan in Hubei province who moved to Beijing in the early 1990s, Zeng has stood out as one of the most successful contemporary Chinese artists in recent years.
Zeng's art responds to his immersion in a more superficial environment, and his influential Mask series portrays the tensions between the artist's dominant existential concerns and an ironic treatment of the pomposity and posturing inherent in his contemporary urban life.
Over the years, he has held solo exhibitions not only in China but worldwide, in cities including Barcelona, Paris, London and New York.
"What I paint is, of course, my life, so Chinese people can understand my works better.
"But I don't want to remain a very regional artist-an artist in Wuhan or in Beijing, but be part of the world's art," said Zeng during the fourth Award of Art China event in 2010.
The presentation of Zeng's latest work at the Van Gogh Museum is the first in a world tour.