Embroidering out of poverty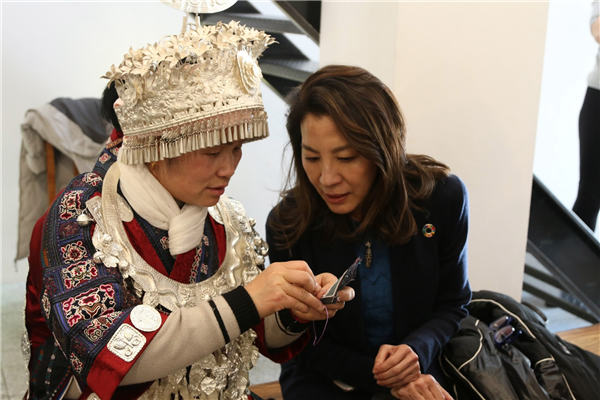 The United Nations Development Program's (UNDP) Goodwill Ambassador Michelle Yeoh is fulfilling her mission by taking lessons – embroidery lessons.
Yeoh's three teachers – Gu Lanhua, Long Dafen and Li Min – are from the Miao ethnic group and live in Qiandongnan Miao and Dong autonomous prefecture of Guizhou province, where 4.93 million people reported living under the poverty line in 2015.
Due to poverty and geographical isolation, it is common for Qiandongnan's young labor force – especially the males – to work in other more developed areas.
Like many Miao women, Gu, Long and Li stayed behind at home to take care of their kids and tend to their livestock. They tried working in big cities for higher wages, but came back home for a sense of belonging – even though living in remote villages offers no source of income.
Due to a lack of income generation skills, they could not engage fully in society and were excluded from community decision-making. None of them could have imagined the very needle and thread they use to make traditional Miao clothing could be their way out.
To increase the development of cultural industry in ethnic minority areas, empower women and foster women's development, the UNDP launched a project called "Weaving into Happiness."