Policies released on China's rural vitalization
Share - WeChat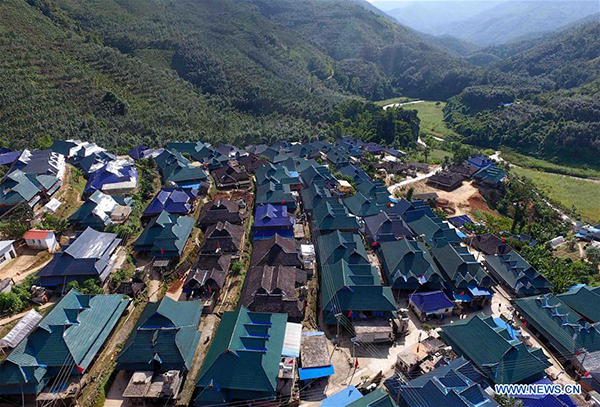 BEIJING - China on Sunday released a package of policies under the "No 1 central document" of the year, charting the roadmap for rural vitalization.
There is quite a lot to be accomplished in the rural area where opportunities for development have arisen as the country enters a new era, said the document jointly released by the Central Committee of the Communist Party of China (CPC) and State Council.
The "No 1 central document" is the name traditionally given to the first policy statement of the year released by the central authorities, and is seen as an indicator of policy priorities.
The strategy of rural vitalization was first proposed as one of the major aspects of developing a modernized economy in a report delivered to the 19th National Congress of the CPC.
In this latest document, the strategy was described as a "historic task" essential to accomplishing China's modernization goals and building a moderately prosperous society.
China cannot become modernized without modernizing its agriculture and rural areas, said the document.
The timetable decided by the CPC at a rural conference in December remains unchanged. But the objectives for different stages have become more specific.
By 2020, the strategy should have established an institutional framework and policy system. By then, no Chinese people will live under the existing poverty line, and rural productivity and agricultural supply will improve substantially.
By 2035, "decisive" progress shall be made, with basic modernization of agriculture and rural areas. All Chinese, either in cities or rural areas, will have equal access to basic public services. Urban and rural integration will improve.
By 2050, rural areas should have strong agriculture, a beautiful countryside and well-off farmers.
Han Jun, chief of the Office of the Central Rural Work Leading Group, said the document was "problem-oriented" and a "top-level design" for China to achieve prosperity in rural areas.
"The document not only elaborates on the significance of the strategy, but also sets the tone, specifies the targets and policies and makes requirements for governments at lower levels, he said.
The document puts a lot of emphasis on the need for proper planning. Local governments have been required to specify their plans according to the local reality, especially for the period from 2018 to 2022, and to coordinate policy-making in relevant spheres.
For instance, in well-developed villages, the priority may be on increasing public services. In villages with a long history and rich natural and cultural resources, development must be done along with protection.
In villages with harsh living conditions and a fragile natural environment, more efforts shall be taken in relocation.
As the Chinese economy is shifting toward high-quality development, China also aims for more competitive agriculture driven by higher productivity and better quality.
According to the document, China will have more high-standard farmland, install more efficient water conservancy facilities, and use more advanced agricultural equipment.
Farm produce will face tougher quality tests while more efforts will be taken in the treatment of soil and water pollution.
China will also expand exports of high-quality farm produce and broaden rural cooperation with countries and regions under the Belt and Road Initiative.
More capital will be channelled to rural areas through steadily rising public finance inputs, broadened financing, and better financial institution services.
The package of policies also includes better rural governance, strengthened leadership of the CPC, better education and medical services, improved living facilities such as toilets, and reforms on land use and collective property rights.
This is the 15th year in a row that the "No 1 central document" has been devoted to agriculture, farmers and rural areas.