China-UK electric bus unveiled
Share - WeChat As Britain undergoes a clean air revolution, zero-emission vehicles gain popularity in its towns and cities
A leading Chinese bus manufacturer and its British partner this week unveiled their new zero-emissions all-electric vehicle, which they hope will reduce pollution in the United Kingdom and beyond.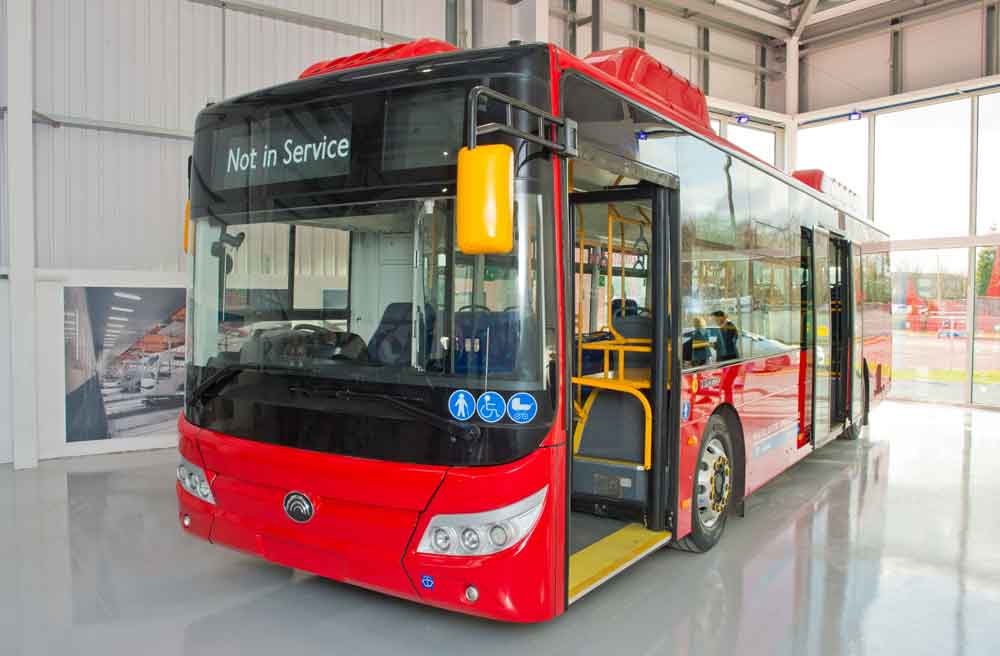 Yutong, the number one bus brand in China, in partnership with Wakefield-based automobile dealer Pelican Engineering Group, revealed the 10.8-meter E10 city bus in Leeds this week.
Designed specifically for the UK, the E10 is the first electric bus in the 10-meter range and uses the same single electric motor drivetrain as the 60,000 Yutong electric buses already in service around the world in many different operating conditions and locations.
Speaking at the launch, Jin Xu, minister counselor of the economic and commercial office at the Chinese embassy in London, said: "The launch of the new E10 bus has demonstrated the great capabilities of Chinese technology and the 'Made in China' brand in tapping into the UK market.
"It is a successful example of Chinese businesses embracing the 'going global' strategy."
Chinese clean energy vehicle manufacturers have won favor with European customers in recent years thanks to advanced technology, reliability and competetive prices.
Yutong, which has been the biggest bus and coach manufacturer in the world for the past seven years, entered the UK in 2013, with Pelican as its importer and dealer.
In less than four years, the company has delivered more than 300 buses and coaches, making it one of the top five suppliers in the UK.
Chang Hao, Yutong's deputy general manager of international business, says: "The E10 model was developed based on local needs around the specification and user experience. It will give us a strong foothold to compete in the UK market. Many bus operators in London and other major English cities have already booked to try the new vehicle."
Chang says the use of electric buses will help cities reduce carbon dioxide emissions and improve the environment in the UK and Yutong buses are manufactured strictly in line with the standards of the European Union, where rigorous standards on vehicle emissions are demanded.
In 2016, Britain announced that sales of new diesel and gasoline cars would be banned by 2040, offering new possibilities to leading new energy car manufacturers like Yutong amid Europe's battle against environmental pollution caused by the internal combustion engine.
Considering the UK is undergoing a clean air revolution, Chang says electric buses from China have proved to be more economical and environment-friendly than diesel ones.
Richard Crump, managing director of Pelican, says: "It has been a pleasant journey to work together with Yutong and we have full trust in its capabilities and designs.
"We have had one vehicle on the road in the UK for 12 months, which has had zero mechanical issues. That's because of Yutong's technology and its experience in this market," he says.
The Pelican Engineering Group, which sells trucks and coaches as well as spare parts, will celebrate its 100th anniversary next year.
Crump says that, as the British are keen on green energy buses as a fresh means of transportation, he is confident of selling 50 electric buses over the next 12 months, with most of them hopefully going into London.
It is not just in the UK that Chinese buses have been welcomed. Chinese-designed coaches have also been running on the streets of the Netherlands and Bulgaria, proving to be a reliable and economical alternative for transportation.
In 2016, a batch of 110 buses from Yutong was successfully delivered to Sofia, the capital of Bulgaria in the southeast of Europe.
Slav Monov, executive director of Sofia autobus company Stolichen Autotransport Plc, described Chinese buses as cost efficient, economical, safe and comfortable. A total of 110 Chinese coaches have gone into service on eight lines in Sofia.
He told Xinhua that Yutong buses are a good balanced product with the best price-quality ratio, adding his company is looking for the best price-quality ratio in order to serve a greater number of residents.