UK politicians, groups call China's ivory ban 'historical decision'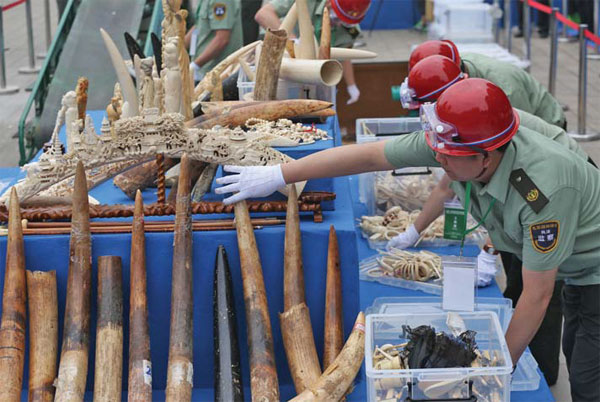 British politicians and conservation groups hailed China's ivory trade ban as a "historical decision" for global wildlife conservation, adding that huge potential exists for UK-China collaboration to effectively stop illegal ivory trade globally.
They spoke on Wednesday during an awareness-raising event at the Palace of Westminster, in which participants detailed key actions China has taken to honor its commitment to stop commercial processing and sales of ivory by the end of 2017.
"It is a historical decision from China, one that will have incredible impact for years to come," said Tanya Steele, chief executive of the World Wide Fund for Nature in the UK.
Lord Timothy Clement-Jones, deputy chairman of the All Party Parliamentary China Group, added that China's actions will have a "big impact".
"In 20 years' time, we will look back on this and say, that China, in the whole history of (stopping) elephant poaching, has made a big contribution," said Clement-Jones.
Jointly hosted by the All Party Parliamentary China Group, the WWF and the Chinese embassy in the UK, Wednesday's event was attended by more than 100 guests, including politicians, business leaders and conservation group representatives.
In his keynote speech, Zhang Shanning, deputy director general of the Northeast Tiger Leopard National Park Authority at China's State Forestry Administration, told the audience that the Chinese government has taken concrete actions to monitor wildlife trade activities and implement strict punishment against criminals.
The Chinese government has also improved coordination across more than 20 government ministries to enforce the new law in a comprehensive way, and conducted public education campaigns domestically, Zhang said.
China has also contributed internationally by encouraging the Chinese sea transportation and civil aviation industries to participate in international efforts to combat illegal trade. It has also reminded Chinese companies and individuals in African countries not to participate in illegal ivory trade, he said.
Zhang acknowledged that illegal wildlife trade is still a big problem globally, while reaffirming China's commitment to continue contributing its efforts.
"China will consistently and persistently improve its legislation, strengthen law enforcement, increase public awareness of protection with a purpose of rooting out this bad phenomenon," Zhang said.
According to the International Union for Conservation of Nature, the population of African elephants has fallen by 111,000 in the past decade. The overall trend in poaching shows a decline from the 2011 peak, but levels are still too high when viewed continent-wide.
Poaching for the trade in ivory is estimated to claim about 30,000 elephants worldwide every year.
In 2015, China took a major step forward to tackle the problem, announcing that it would ban imports of ivory and ivory products. Over the next few years, China gradually strengthened its ivory ban legislation scope and enforcement efforts.
The clampdown on the trade has pushed the global price of ivory down, and the number of elephants killed in the past three years has fallen by 65 percent, according to the charity Save the Elephants.
The UK, which currently allows trade for ivory antiques carved before 1947, is conducting a government consultation process to determine whether it should ban sale of all ivory regardless of age.
In October 2018, the UK will also host a major international conference on the illegal wildlife trade, bringing global leaders to London to tackle the strategic challenges of the trade.
Steele said it is important for the Chinese and British governments to further collaborate at the conference. "If China can, side by side with the UK, call other leaders in the world to do the same, that will have an important impact."