Artisans stick to the old technique of gilding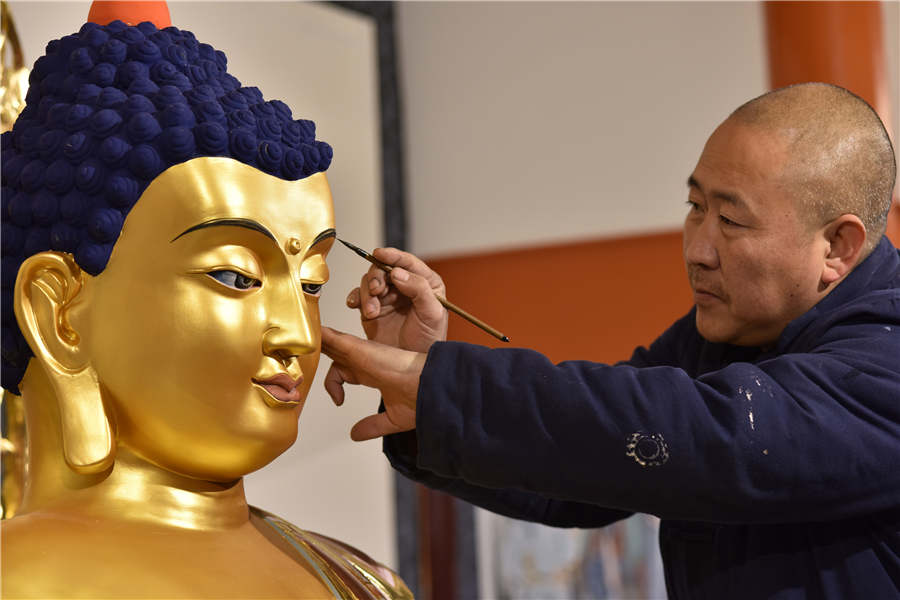 Kang Shouguang is a gilding artisan in the 1,700-year-old Daci Temple in Chengdu city of Sichuan province. Kang started to learn the technique of making clay sculpture and painting mural in his teens and since then has trained more than a dozen apprentices who followed him to gild hundreds of statues or murals.
From Datong of Shanxi province, now he and his three apprentices are gilding at the Daci Temple in Chengdu.
The technique of gilding is an ancient artistry which has sustained for thousands of years. In the Shang Dynasty over 3,000 years ago, the gilding technique had become quite mature and was widely used in decorations for the nobles or statues in temples.
"Gold foil is extremely light, and when gilding, there shouldn't be any wind, sometimes we even need to hold our breath," Kang said. "Gold foil is thin slice made of gold, and the making of it needs to go through more than 10 steps." The gold foils pasted on utensils can help them maintain gloss for 70 years, while it needs much skill to gild them well.
Before gilding, the statue or mural needs a meticulous clean and polish, and then a special glue will be pasted on it.
"We are just common peasants, and it's a pleasure that we can leave our works in Chengdu," Kang said.