Great Wall's guardian wins over locals
Farmer's decades of efforts to protect historical relic not always appreciated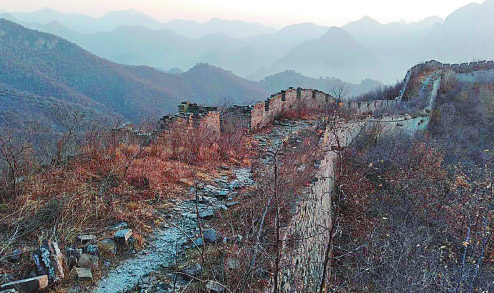 A farmer committed to guarding the Great Wall from damage or theft in Hebei province is intent on preserving the cultural treasure in its original state.
Zhang Heshan, 62, from Chengziyu village in Qinhuangdao, has been a ranger for 40 years, patrolling and protecting a 10-kilometer section of the wall constructed during the Ming Dynasty (1368-1644).
The section, which spans seven villages including Chengziyu, has several forms of fortifications typical along the famous sprawling structure, such as watchtowers, miniature castles, passes and platforms to observe and fire at enemies below. "This is a historic treasure that all generations should protect," Zhang said.
He started to patrol the wall in 1978 when he found considerable damage done by local villagers, who had pilfered its bricks for their own use or smashed engraved stone tablets.
"The wall has been a part of me since I was a child," Zhang said, adding that he used to play on the structure with his classmates. "If the fortifications were destroyed and reduced to rubble, how would I be able to relate the history of the wall to my grandchildren, and how could they play on it just as I did when I was young?" he asked.
On an almost daily basis Zhang spends about four hours walking along the wall to see if there is any fresh damage. Most days he catches people in the act of stealing bricks or herding sheep on the wall, and stops them in their tracks.
However, due to his daily patrols, resentment toward him from villagers and even his family has increased day by day.
"Due to my oversight, would-be thieves and vandals can't continue to commit such actions on the Great Wall, and they are not happy about this," Zhang said.