EU Ambassador kicks off 2018 EU-China Tourism Year in Beijing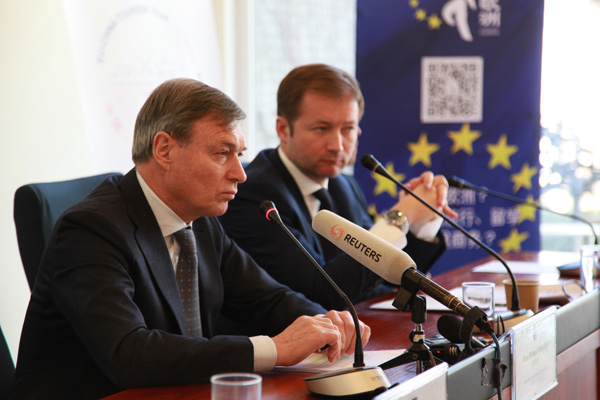 On Tuesday, the Delegation of the European Union to China held a media event to begin the 2018 EU-China Tourism Year (ECTY) in Beijing.
Ambassador of the European Union to China Hans Dietmar Schweisgut spoke at the ECTY opening event, which took place Jan 19 in Venice. He also unveiled the 28-week "Grand Photo Competition" which the EU Delegation will hold in 2018.
Schweisgut said at the event, "2018 is the EU-China Tourism Year. This will not just help increase tourist flows between the two regions and provide better understanding between our cultures, but will also create an opportunity for investment."
The ECTY provides a unique opportunity to increase the number of visits, promote sustainable tourism and stimulate investment opportunities for Europe and China, as well as underpin ongoing negotiations on EU-China visa facilitation and air connectivity.
Fifty initiatives have been already flagged at European, national, regional and local levels, with more to come such as major marketing campaigns in China, business-to-business matchmaking, summits and conferences around specific topics such as maritime tourism, city marketing, and cultural events, including the EU Film Festival in China.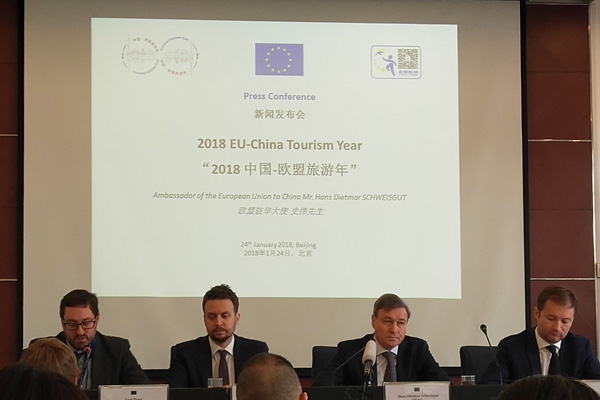 To mark the special year, the EU Delegation's "2018 Grand Photo Competition", a contest promoting EU member states and running from the end of February for 28 weeks, will offer a chance to win a free trip to Europe. This event is part of the "Experience Europe" initiative, which the EU Delegation will undertake in China until April 2019.
The EU hopes this series of rich, interactive events will bring the ECTY into the lives of everyday people and improve EU-China cultural exchange.
On July 12, 2016, Chinese Prime Minister Li Keqiang and the President of the European Commission Jean-Claude Juncker announced 2018 will be the EU-China Tourism Year.
Meanwhile, 2018 is the 15th anniversary of the establishment of the EU-China Comprehensive Strategic Partnership. Marking 2018 as the ECTY will greatly boost development of EU-China relationships, including closely linking the rich tourism resources and huge tourism markets of the two regions.
`