Giving China's youngest generation a head start
Experts are assessing a program that enhances the cognitive, motor and behavioral skills of infants, as Jiang Chenglong reports from Qujing, Yunnan.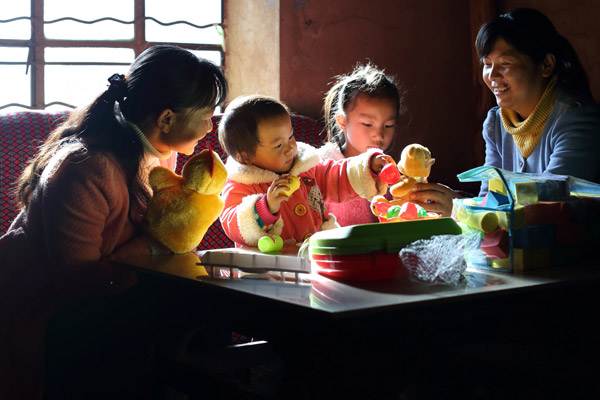 Li Binying held a toy cup out for her new toy bear and babbled, "Drink, drink the milk."
The 2-and-a-half-year-old girl from Zhanyi, Qujing city, Yunnan province, was playing with a toy designed to teach children about food. She was accompanied by her mother and an "aunt", who brings new toys every time she visits.
Like many parents in rural areas, Binying's mother, 35-year-old Li Jiamei, was initially unaware of the child care measures required to raise her daughter in a way that would promote healthy intellectual development, such as playing with toys together as often as possible.
"Most rural parents have a lower level of education than those in urban areas, so they don't know enough about child care," said Luo Renfu, project leader of the Rural Education Action Program, supported by Stanford University, the Chinese Academy of Sciences and Shaanxi Normal University.
In early 2015, the program began a two-year research project in seven national-level, poverty-stricken counties in Shaanxi province. The program focused on 648 infants ages 6 to 24 months and their main caregivers.
The study found that most rural caregivers could only answer 50 percent of the questions in a parenting test, and also noted that the greater a parent's child care skills, the better their infant's cognitive, motor and behavioral skills will be.
"Children in rural areas are more likely to be left behind by their urban counterparts in terms of study and future opportunities because of defective childhood care before the age of 3," Luo said.
According to a 2015 report published by the All China Women's Federation, more than 50 percent of rural children ages 6 and younger had a zinc deficiency, which can affect metabolism, and their rate of growth retardation was six to eight times higher than their urban peers, meaning many were severely malnourished.
In response, the National Health and Family Planning Commission and Save the Children International launched a pilot program called Early Childhood Care and Development, designed for families with children age 3 or younger, in three rural areas in Zhanyi.
Under the program, the Zhanyi health bureau and Save the Children trained village workers to visit the families twice a month.
During home visits, they carried workbags containing new toys, picture books, a tablet computer featuring an app related to child development, equipment to measure height and weight, and free boxes of nutrition powder.
The workers and their "magic" bags were a key element of the program.