Michelin-starred menu has Chinese flavor
Share - WeChat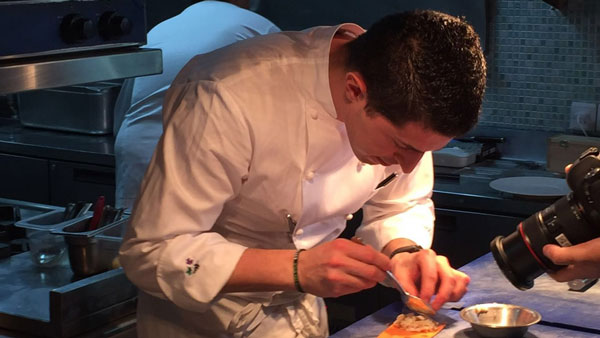 Italian Chef Michelangelo Mammoliti's ever-changing menu of entrees is best kept out of print – that's because everywhere he goes, many of his favorite dishes take on a new flavor.
"My cuisines change as I travel," says Mammoliti. "A herb or spice I discover on the road, local flavors, cooking techniques... all of it helps me create the most worldly menu possible."
And that worldly menu now has a southern Chinese flair.
The Michelin-starred success has spent four days at Guangzhou's Ritz Carlton Hotel, where Mammoliti prepared a variety of his best dishes for patrons at Limoni, the hotel's Italian restaurant.
Andrea Zamboni, the lead chef at Limoni, has been one of Mammoliti's best friends since the two were kids.
"Guangzhou has a very strong culture of food," says Zamboni, who has lived in Guangzhou for nearly two years.
"(Michelangelo and I) work with a common goal - if you truly believe in what you do, you can really achieve something great," he added.
And Guangzhou itself has achieved something great.
China's third largest city is now the second in the country after Shanghai to earn a Michelin rating for its food.
Michelin Guides are published by the French tire manufacturer of the same name. Each year they publish new guides for new cities that they deem to have exceptional restaurants.
Zamboni says he is pleased with the rating, and added that virtually any city can earn the honor.
"You can eat well anywhere in the world," he says. "You can't think that the cuisine you'll find in Milan is the same as in Bangkok or Beijing. It's an experience, and a good one."
Most Popular