A place built by, and into, the sea
Share - WeChat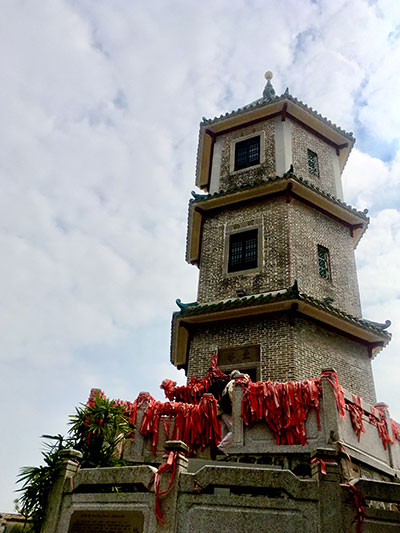 The ocean built ancient Shawan town.
And Shawan rebuilt the ocean, in a sense. It at least reconfigured its boundaries.
Its founder's clan bought a plot of land on the coast-to dig up.
They carried that earth to the shoreline and, over time, pushed the waves back with an ambitious land reclamation that expanded their, well, land.
Shawan, by the way, roughly translates as sand gulf.
Another way in which the town was built by and from the sea-many buildings that are up to two centuries old are constructed using whole oyster shells harvested from intertidal zones.
The bivalves' husks are as big as a set of hands pressed together for prayer-and are said to withstand time better than bricks.
The saying goes, time will tell. Shawan seems to have answered that question-and residents' prayers for their homes.
They still stand.
The settlement was founded when patriarch He Deming resigned from office in inland Anhui province. He led about 50 relatives thousands of kilometers from their homes to Guangzhou's seaside.
They literally carved out a life for themselves by the sea.
And they prospered.
The community produced literati, especially graduates of imperial exams and pipa (Chinese lute) players.
Three of its late pipa performers are celebrated among the nation's best, including one who moonlighted as an acrobat.
The town displays statues of imperial exam graduates and stages Cantonese Operas.
And residents still practice such disappearing folk arts as of Cantonese brick, wood and stone carving.
It's also known for its traditional culinary contribution-buffalo-milk ginger custard.
The snack is a concoction of freshly squeezed yellow-ginger juice whirred into blistering-hot buffalo milk. It's ready to eat when the milk has cooled and congealed enough that you can place a spoon on it and the utensil floats.
Indeed, the small settlement's medley of charms has conjured a growing allure among travelers.
Shawan has gone from claiming land from the seaside for a family long ago to claiming a growing number of overseas sojourners today.
That is, people from around the world who visit the land this town built up from and by the sea-in every sense.