Traffic improves in more than half of major cities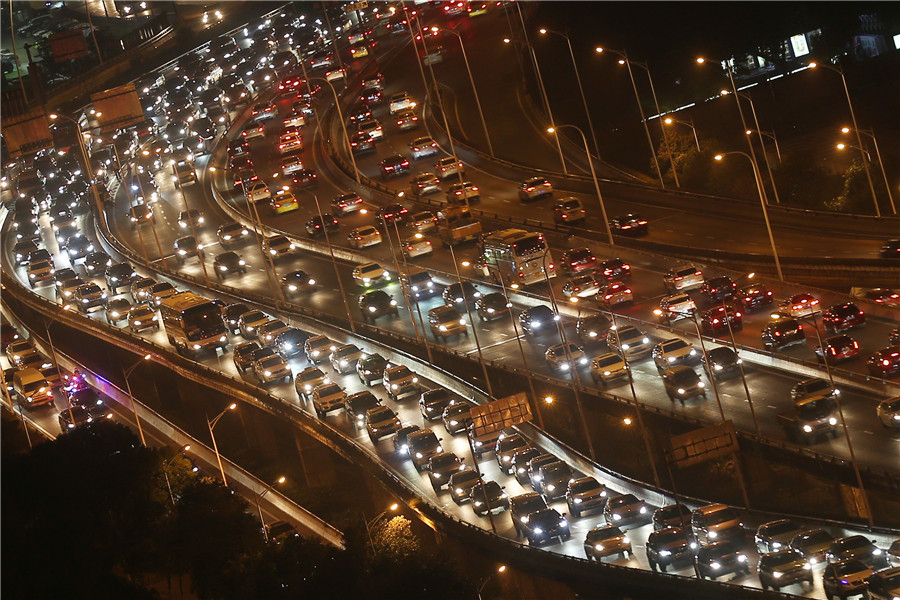 More than half of the 100 major cities in China experienced an improvement in traffic congestion last year, according to an annual report released on Thursday.
The 2017 analysis of major city traffic, drafted by domestic navigation company Amap, the Scientific Research Institute of the Ministry of Transport, and Aliyun, said that 51 cities had improved traffic congestion last year, while 22 cities saw their traffic worsen.
The other 27 cities remained the same over the previous year.
The report is based on a ratio of the time spent traveling during rush hour compared to time spent with a free flow of traffic. A higher number shows more serious congestion.
In the 22 cities where traffic got worse, the index shows that it took more than 1.8 times as long to travel during rush hours - from 7 to 9 am and 5 to 7 pm - as during off-peak hours.
Overall, the index for traffic congestion in the 100 major cities in 2017 dropped by 2.45 percent compared to 2016, returning to the level of 2015.
Jinan, capital of Shandong province, was the most congested city again this year, the report said. It was followed by Beijing and Harbin, capital of Heilongjiang province.
Among the 10 most congested cities, Hohhot of Inner Mongolia, Hefei of Anhui, and Changchun of Jilin made it onto the list for the first time.
Meanwhile, Chengdu of Sichuan, Shijiazhuang of Hebei, Shenzhen of Guangdong, Wuhan of Hubei, and Hangzhou of Zhejiang saw improvements in traffic and were no longer on the list of the 10 most congested cities.
The report said the improvement in some cities is due to rotating bans on cars according to the last digit of the plate number.
Researchers warned that 42 percent of cities in China will face worse traffic this year, and 58 percent of cities are expected to improve or remain the same.
Wei Chao, a native of Jinan, said he now rides an electric vehicle during peak hours.
"I don't expect the traffic in Jinan will improve. The previous measure to build an overpass and ease traffic has actually failed. More cars go directly to the overpass while there are fewer cars on the normal road, which increased the congestion," the 29-year-old said.