Rise of the mini gyms
Share - WeChat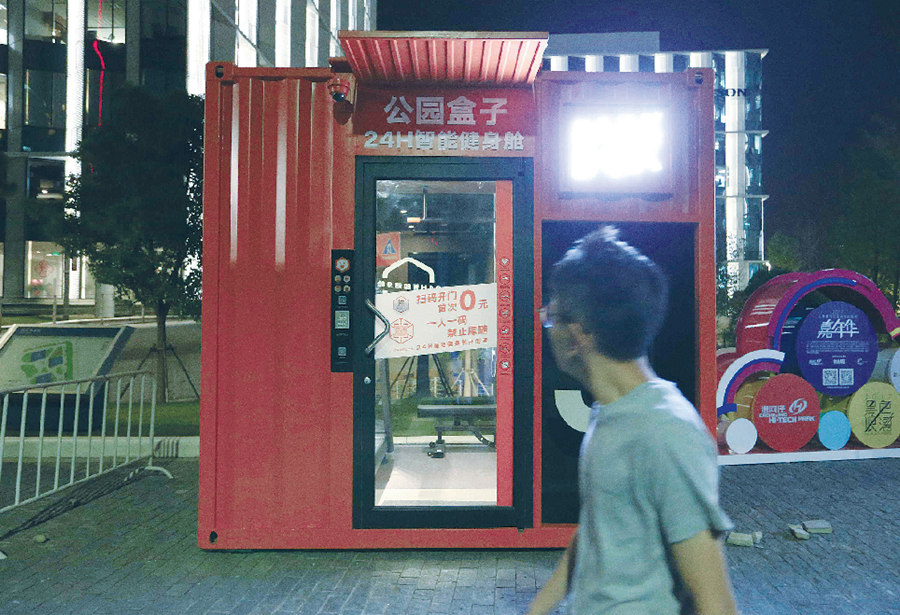 In a bid to solve his alcoholism, which led to health issues such as insomnia and obesity, Wang Jianping picked up running in 2012.
The researcher at Fudan University's medical college has since become a fitness fanatic, running every day and amassing a box full of medals from competitions including the Shanghai International Marathon which he has attended six times.
In 2016, the 50-year-old decided to start running in gyms instead of outdoors, citing that it can get too hot in the summer and too cold during winter. This was when he chanced upon a modular building called ParkBox.
To his surprise, the space was filled with fitness equipment such as multifunctional weight machines, dumbbells, treadmills and intelligent coaching systems which provide training programs for users and can even determine if they are performing their workouts correctly. Wang was quick to sign up as a member.
Shaped like shipping containers, these 24-hour mini gyms have been sprouting up all over Shanghai in the past year. ParkBox currently operates gyms in three sizes: 8 square meters, 18 sq m and 28 sq m. They can accommodate up to two, four and five people respectively.
"Although small, these gyms are very convenient and practical. Every facility is equipped with a treadmill, a set of dumbbells and an intelligent coaching system," said Huang Xiaolei, co-founder and CEO of ParkBox.
Users like Wang can reserve a spot in the gym at any time of the day simply by making a booking using the ParkBox app or WeChat. Every hour in the gym costs just 10 yuan ($1.50) during peak hours. Those working out in the facility before 10 am and after 10 pm pay just 5 yuan per hour.
ParkBox, which was first launched in the Zhangjiang area in Shanghai's Pudong New Area at the end of 2016, now operates 50 mini gyms across Shanghai and Hangzhou, Zhejiang province, and has nearly 200,000 registered users. According to the company, each user visits these gyms an average of six times per month.
Huang pointed out that conventional gyms usually require about two years to break even. In contrast, ParkBox was able to do so after six to eight months because of the lower costs associated with rental and hiring coaches.
The emergence of these mini gyms comes at a time when traditional gyms are struggling to stay afloat. Chen Xinzhuo, the product director of a Wuhan-based mini gym brand XimoPanda, said that the company's research has found that 80 percent of traditional gyms in Shanghai and Shenzhen are either unprofitable or fighting to make ends meet because of increasing costs and competition.
XimoPanda opened its first 24-hour mini gym in Wuhan, Hubei province — it measures 300 sq m and is equipped with about 40 sets of equipment — in October. Admission to the gym is just 3 yuan per hour and it is able to accommodate more than 40 people at a time. Chen said that the company is looking to open more than 100 of such facilities by the end of 2018.
Besides cost savings and round-the-clock access, these mini gyms also offer consumers a welcomed reprieve from one of the biggest drawbacks of conventional fitness facilities — the hard selling of membership packages.
"I had bad experiences at traditional gyms where fitness coaches are more like salesmen," said Li Yi, a 23-year-old interior designer from Wuhan. "Besides, the annual membership fees often range from 3,000 to 4,000 yuan, which is so much higher than these mini gyms.
"By working out at XimoPanda gyms, I can save about 2,000 yuan a year while getting the same quality and quantity of fitness."
Wang Feng, the founder of Sunpig fitness, an internet-based gym brand which has 150 facilities in 60 Chinese cities, said traditional facilities are now at the crossroads as people have become more reluctant to purchase annual memberships.
"An annual gym membership usually costs thousands of yuan. Spending a three-digit amount every month on a card that provides access to gyms is a much less riskier decision to take," said Wang, who expects that such gyms would become a black horse in China's burgeoning fitness market.
He pointed out that the introduction of state-of-the-art technology also boosted operational efficiency and allowed users to conveniently access their workout data through an app. This has in turn reduced labor costs by two-thirds, allowing the brand to expand at a much faster pace than traditional gyms.
Wang added that Sunpig is aiming to become the domestic market leader by opening 300 gyms annually over the next three years.
While smaller gyms like these and their conventional counterparts currently account for 1 and 64 percent of the market respectively, this ratio is expected to change dramatically over the next few years. According to a report from Shanghai-based consulting firm Meritco Services, internet-based innovative gyms will command a 38 percent market share by 2021, with traditional facilities narrowing their share to 34 percent.
Mini gyms are also well-positioned to ride the wave of rising interest in fitness in China. Chen pointed out that Keep, a Chinese mobile fitness app, presently has more than 100 million users, indicating that there is huge market potential for mini gyms.
A report on sports consumption jointly published in September by Nielsen and JD forecast that China's sports industry will hit 5 trillion yuan by 2025, accounting for 2 percent of the nation's GDP. The report also showed that Chinese spent 194.9 billion yuan on sports-related goods online in 2016, double the amount in 2014, and expenditure is expected to grow even further.
In addition, despite the central government's push to promote sports in the country, only 34 percent of Chinese exercise regularly, compared to the 70 percent in the United States, indicating that there is still much room for growth for businesses dealing in fitness-related products and services.
wang_ying@chinadaily.com.cn