Time Asia cover labels Baidu's Li 'The Innovator'
Share - WeChat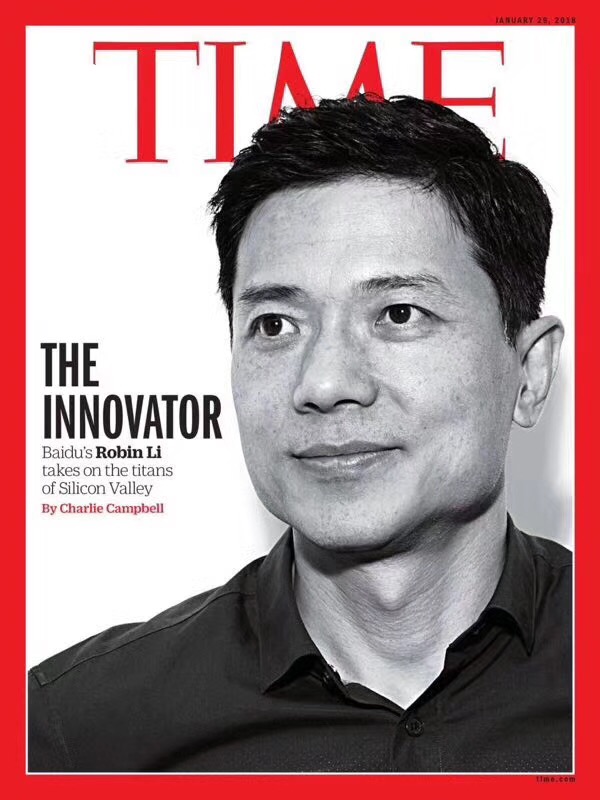 Time Asia's latest edition features Baidu's co-founder and CEO, Robin Li, on the cover with the text that reads "The Innovator".
The headline used for the piece inside the magazine reads "Baidu's Robin Li is Helping China Win the 21st Century". It is the first time that a Chinese IT entrepreneur has featured on the magazine's cover.
Reflecting on how Li built China's biggest search engine, the article writes that Baidu, which has 80 percent market share in China, is just behind Google in terms of search engine and has become the world's fourth-biggest website, whose Chinese rivals are only social media and gaming giant Tencent and China's biggest online shopping website Alibaba.
While now Li is the CEO of China's top search giant, in 1992 he felt very embarrassed when he was asked during an interview for a graduate program in computer graphics in the US whether he had a computer in China.
At present, one-third of the world's 262 unicorn tech companies are Chinese, and China has become world's largest e-commerce market, accounting for nearly half of the global trading volume, according to a report released by management consulting firm McKinsey &Co.
China's State Council announced the next artificial intelligence (AI) development plan on July 20, 2016, which stated that China will become "the most advanced AI innovation center in the world" before 2030 and China's core AI industry will see a production value of $148 billion.
"No one in China takes this challenge (AI) more seriously than Robin Li," said Time Asia.
Baidu, whose first-quarter revenue in 2017 was $9 billion, invested nearly $ 1.2 billion in research and development, and most of it was invested in AI, according to the tech giant's earnings report.