Tunnel completed for Sichuan-Tibet Railway
Share - WeChat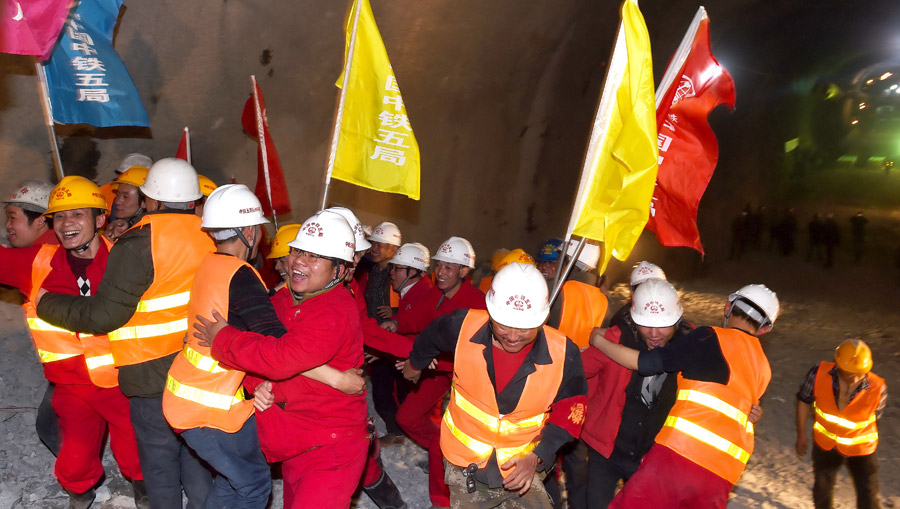 The Sichuan-Tibet Railway's first tunnel-that runs more than 16 kilometers along the canyon area of the plateau-managed to cut through on Wednesday under extremely high temperatures, Xinhua News Agency reported.
The 16.4-km Samdrubling Tunnel in Sangri county of the Tibet autonomous region, which passes through the Yarlung Zangbo Grand Canyon, is an important section on the railway that will link Lhasa and Chengdu, according to China Railway Corp.
More than 1,200 workers had toiled on the project since December 2014. They had to overcome many difficulties and dangers, including rock bursts-violent and spontaneous fracturing of the rock.
The highest air temperature within the tunnel was 56 C. Workers could not stay for more than two hours in the tunnel, and in order to cool it down a wind machine, water system and ice blocks were set up, Zhu Xuren, manager of the project from China Railways No 5 Engineering Group Co, told Xinhua.
The rock burst zone in the tunnel covered 9.5 km and rock outbursts happened about 16,000 times during the construction, Li Chuanghai, an engineer of the project, told Xinhua.
"Like earthquakes, the rock bursts happened without any signs at all. The rock slices or rock pieces shoot off in a certain direction or collapse suddenly," worker Cheng Yingbin told Xinhua.
Working deep underground also increased the difficulty of construction. Emergency rescue stations were deployed to guarantee safety.
Yang Hao, a railway professor at Beijing Jiaotong University, said that the tunnel cut through a complicated geographical area of the Tibetan Plateau and needed to be carried out extremely carefully.
"It is a very challenging project for railway construction in China. The tunnel is quite long, so the ventilation and lighting systems are also very important to guarantee safety," Yang said.
As the second railway connecting Tibet with the rest of the country, the Sichuan-Tibet Railway is expected to be completed in 2025, and will reduce the travel time from Chengdu to Lhasa to about 13 hours from about 36 hours.