Women's rising role in traditional Tibetan medicine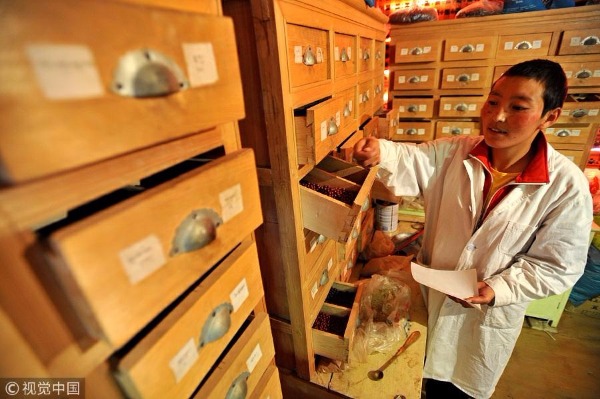 Tashi Tso has to change into three different pairs of shoes a day: high heels before entering the office, canvas shoes at work and white rubber soles in the manufacturing room.
She works at the pharmaceutical department of Qinghai provincial hospital of Tibetan medicine in northwest China, and the shoe changing is necessary to meet national hygiene standards.
"I love my job and am thrilled to be in an industry that was once under male dominance," she said. For thousands of years, knowledge of and treatment with Tibetan medicine were passed down in monasteries, and the best doctors were often monks. Women rarely had the chance to learn medicine, and their roles were restricted to household chores and raising children.
As one of China's most influential medical subjects, Tibetan medicine has been used to cure aches and ailments for over 3,800 years. It draws on traditional Chinese, Indian and Arab medicine and uses herbs, minerals and sometimes insects and animal parts.
China has intensified measures to support the development of Tibetan medicine. An innovation platform of Tibetan medicine jointly built by Beijing, Tibet, Gansu and Qinghai was recently launched. In Qinghai, a program supporting the development of Tibetan medicine was launched in December.
Fifteen therapies and practices of Tibetan medicine have been listed as national intangible cultural heritage, and the output of such medicine reached 2,300 tonnes, worth 1.5 billion yuan (around $234 million) in 2016.