Driverless vehicles raise pace of travel transformation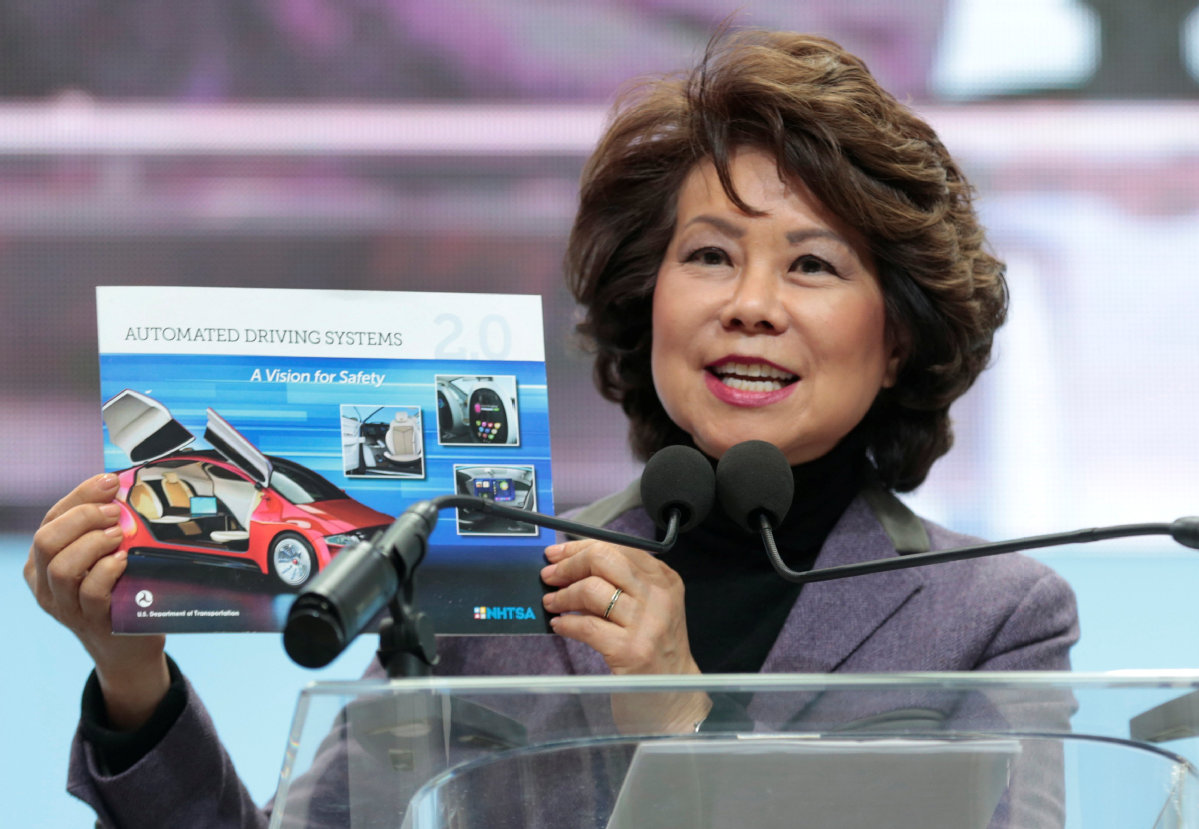 US Secretary of Transportation Elaine Chao said on Sunday that autonomous or driverless vehicles are about to change the way people travel and connect and pledged that her agency would work closely with stakeholders to accelerate development of the emerging technology.
Speaking at the AutoMobili-D exhibit at the 2018 North American International Auto Show in Detroit, Chao outlined three main areas of autonomous vehicle development that will be critical for her department.
Chao also said her department and its various agencies will work to cultivate safety development, emphasize neutrality in judging technologies and work to avoid a patchwork regulatory approach.
Chao said autonomous vehicles hold great promise for making road travel safer and increasing the mobility of the disabled and seniors.
"Driverless vehicles can reduce accidents and save lives," she said. "About 94 percent of accidents involve a driver error. With autonomous vehicles, risk will focus less on drivers and more on software."
Noting that advances in driverless vehicle development are coming at a frantic pace, Chao pledged that the transportation department will give "careful consideration" to the recent request of General Motors for government approval to begin operating fully autonomous cars without steering wheels or pedals in a commercial ride-hailing service in 2019.
Chao said the department has unveiled new initiatives to help spur innovation in the technology. Last year the agency released new federal voluntary guidelines for autonomous vehicle development called Automated Driving Systems: A Vision for Safety 2.0.
"The progress in this area is happening so quickly that you can expect 3.0 to be released this summer," said Chao.
The transportation secretary also said the DOT will look to provide updated safety data for industry and consumer use.
Chao said her agency has a vital role to play in shaping the new technology, and there are three main areas the department will focus on. Public and private interests must safely integrate the technology into the nation's transport system, address concerns about privacy issues and establish policies to help cope with the potential disruption of job losses from driverless vehicles.
"This technology will create new and different jobs. We must help workers transition to these new opportunities," she said.
Chao's speech came a day before the annual press preview begins at the Detroit auto show, which is considered to be one of the industry's most important events.
On Monday, Chinese automaker Guangzhou Automobile Group is expected to unveil an electric concept vehicle and may discuss plans to enter the US market.
China expects smart cars with partial or fully autonomous functions to account for 50 percent of new vehicles sold in the country by 2020 - one of the most ambitious plans worldwide to push forward self-driving technologies.
The blueprint, released by the National Development and Reform Commission on Jan 5, is part of the country's efforts to grow into a global power in smart-car development and production by 2035.
Li Fusheng in Beijing contributed to this story.