African countries demand apology for Trump slur
Share - WeChat US president accused of using vulgar term in meeting to discuss immigration
ADDIS ABABA, Ethiopia - Vulgar comments attributed to US President Donald Trump have caused outrage and demands for an apology across Africa.
Trump reportedly used the slur to describe African countries, Haiti and El Salvador while discussing immigration issues with US lawmakers on Thursday.
Trump issued a statement on Friday denying the vulgar words attributed to him, though he admitted to using strong language in the Thursday discussion.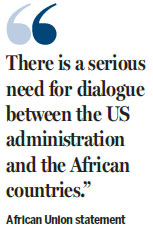 Trump's alleged remarks have caused outrage across the world with officials in African, European, Latin American countries and the United Nations expressing condemnation and summoning US diplomats in protest.
The African Union issued a statement on Friday evening calling Trump's reported remarks outrageous and hurtful.
"While expressing shock, dismay and outrage, the African Union strongly believes there's a huge misunderstanding of the African continent and its people by the current administration. There is a serious need for dialogue between the US administration and the African countries," said the AU statement.
It further called for the US president to issue an apology for the hurtful remarks not only to Africans but people of African descent across the globe.
"The African Union condemns the comments in the strongest terms and demands a retraction of the comment as well as an apology to not only Africans but to all people of African descent around the globe," further read the AU statement.
Nevertheless, aware the US is still a powerful military and economic power, the AU statement called for continued strategic partnership with the US. But it emphasized that such a partnership should be based on mutual respect and accepted international principles of respect of basic human dignity.
AU spokeswoman Ebba Kalondo pointed out the US role in the Atlantic slave trade, as an example of how African nations Trump described as "shithole countries" were exploited in a shameful manner.
She added the purported statement was particularly unfortunate coming from a leader of country that describes itself as a global example of a successful migrant nation.
The African group of ambassadors to the United Nations issued an extraordinary statement condemning Trump's "outrageous, racist and xenophobic remarks" and demanding a retraction and apology.
Former US ambassador to the UN Samantha Power shared the statement on Twitter, saying: "Whoa. I've never seen a statement like this by African countries directed at the United States."
In South Africa, a senior official of the ruling African National Congress said Trump was "extremely offensive" in using the slur.
Developing countries do have difficulties but they are not as Trump described, said ANC Deputy General Secretary Jessie Duarte, calling the remarks "unfortunate".
"Ours is not a shithole country, neither is Haiti or any other country in distress," said Duarte.
Kenya joined the list of critics, with its second largest newspaper, The Standard, on Saturday carrying an editorial condemning Trump's language.
"While it can be argued that Trump's toxic language and Twitter rants towards his domestic opponents is not criminal because they are on opposing sides, it is wrong to imply that some developing countries such as those from Africa are in such worse state that they deserve such a derogatory moniker," it said.
Xinhua - Ap