Driving family just a dream for those awaiting license plates
Share - WeChat Beijing's municipal lottery policy leads some hopefuls to apply instead for new energy vehicles, but others wait and hope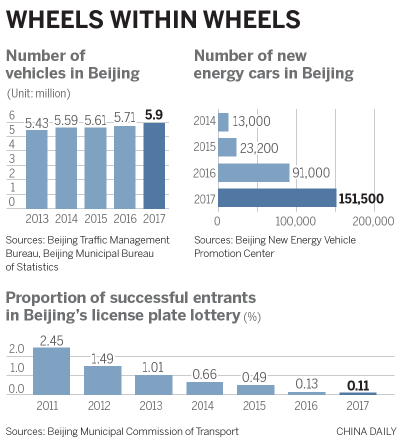 Yu Huapeng got a driver's license six years ago, so he could take his wife and baby daughter on weekend road trips. He's rarely used it, though, because after all this time he's still waiting to strike it lucky in Beijing's car plate lottery.
The capital introduced an annual quota on new car registrations in 2011 to ease traffic congestion and combat smog. For the past two years, the cap has been set at 90,000 licenses for conventional vehicles, available only by entering a monthly drawing, and 60,000 for new energy vehicles, which are distributed on a first-come, first-served basis.
If people thought it was tough to get a plate before, they could find it even more difficult in 2018. The municipal government has slashed the quota for gas and diesel cars by more than half to 40,000.
"I've been taking part in the lottery for years," said Yu, 36, deputy manager of an energy company. "It's ironic that my driver's license is about to expire this year, and I still can't buy a car."
Although other Chinese cities have adopted car registration quota systems, Beijing is the only one that distributes license plates solely through a lottery. In Shanghai, car plates are auctioned in monthly sales-the average price in December was 92,848 yuan ($14,371)-while Shenzhen and Guangzhou have both lotteries and auctions.
Beijing's first lottery in January 2011 had only 187,420 applicants. Last month, the number stood at more than 2.8 million, with another 117,678 still waiting for an NEV plate. Due to soaring demand, the chances of getting a license plate for a gas or diesel vehicle fell from 9.39 percent in 2011 to 0.11 percent in 2017.
Yu, who saw the trend and felt there is little hope to get a petrol plate, gave up his application in the lottery and joined the waiting list for an NEV license-although he will still need to wait two years.
He said it's not a problem to take public transportation for work during weekdays, but it is frustrating when he wants to take the family to suburban resorts during the weekends.
"There are many car rental companies in Beijing, which is a choice for people who don't own a car, when necessary," he said. "However, because I don't have driving experience, it's risky for me to rent."
An employee responsible for answering the Beijing city hotline said among various complaints, frustrated people who failed to win a petrol license in the lottery call the most.
"Some of them are furious, angry and rude," said the employee, who was not authorized to talk to reporters and requested anonymity.
Rong Jun, spokesperson of the Beijing Traffic Commission, said on Thursday that the lottery policy is far from perfect, but it's a "have-to" method under the certain circumstances-that Beijing's population and car demand has surpassed the city's capacity.
Beijing aims to keep the total number of cars on the road to under 6.3 million by 2020. By the end of 2017, the city had about 5.9 million cars. In 2011, when the lottery policy was launched, the number was around 4.98 million.
Rong said the government encourages people to use electric vehicles, which reduce emissions.
In 2017, there were 151,500 registered new-energy vehicles in Beijing, which ranks top among all Chinese cities.