Top scientist in nuclear, satellite program dies
Yuan Chengye, a renowned Chinese chemist who played a vital role in the "Two Bombs, One Satellite" project, China's nuclear and space program, died on Jan 9 aged 94.
Born in Shangyu county in Zhejiang province, Yuan was a Chinese Communist Party member, a renowned organic chemist specializing in chemical extraction and organophosphorus chemistry, and an academician at the Chinese Academy of Sciences.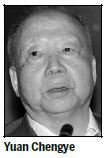 Yuan graduated from China Pharmaceutical University in 1948 before receiving a vice-doctorate in science in the Soviet Union in 1955. In 1956, he worked as a researcher at the Shanghai Institute of Organic Chemistry, Chinese Academy of Sciences.
To help with China's national defense project "Two Bombs, One Satellite", Yuan suspended his ongoing research on amino acid and peptide synthesis in 1959. He then led a team to successfully develop the P-204, N-235 and P-350 extraction agents, which have played a key role in the atomic energy industry's development.
For his outstanding contributions to national defense, Yuan was awarded a medal and certificate by the State Administration of Science, Technology and Industry for National Defense, and was elected as an academician of the Chinese Academy of Sciences in 1997.
At the age of 90, Yuan was still working hard on extracting, recycling and utilizing lithium for the nation's strategic resources.
"He was very dedicated to his profession," said Hu Jinbo, a researcher at the Shanghai Institute of Organic Chemistry. "When he was nearly 90 years old, he still arrived at the institute before 8 am and would not return home until midnight. His rigor and devotion touched me most."
Yuan showed great fervor toward science and the nation, he added.
A memorial service for Yuan will be held at the Shanghai Longhua Funeral Parlor on Jan 15.
heqi@chinadaily.com.cn