Beijing's tourism revenue set to take off with new 144-hour transit policy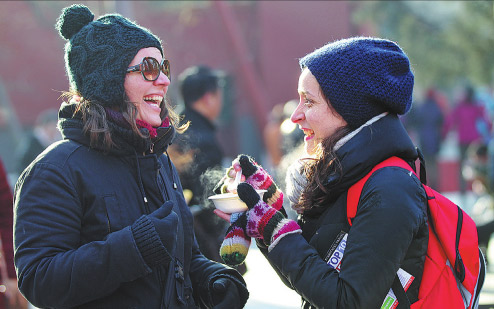 The start of a 144-hour visa-free waiver policy for international travelers to Beijing, Tianjin and Hebei province will create a boom in local tourism, industry insiders said.
The visa waiver, which came into effect on Dec 28, allows foreign nationals from 53 countries a stay of up to six days in the three areas during international transfer - doubling the length of the previous waiver.
A British tourist applying for a 144-hour stay at Beijing Capital International Airport's Terminal 3 said the city had many must-see attractions and the new policy enabled plenty of time to learn about the local culture.
The tourist told China Radio International that Beijing was on his itinerary this time round, but he expected to take advantage of the waiver for tours in Tianjin and Hebei on future visits.
Tourism industry insiders said that since Beijing began its 72-hour visa-free policy in January 2013, the capital has become hugely popular with overseas travelers.
More than 100,000 visitors to Beijing had benefited from it by the end of November, or about 20,000 on average a year, according to the Beijing Municipal Commission of Tourism Development.
Government data showed that Beijing received more than 4.16 million inbound visits in 2016, nearly 3.55 million of them from abroad. As a result, tourism revenue for 2016 surged to $5.07 billion, up 10.1 percent year-on-year.