China-Japan ties can improve through more communication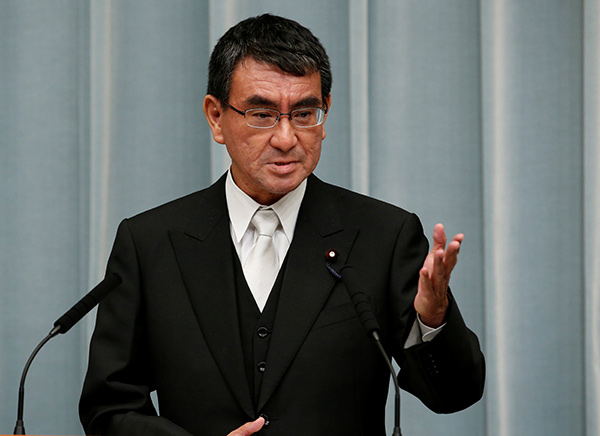 Relations between China and Japan are expected to further improve after the thaw in 2017. And Japanese Foreign Minister Taro Kono's possible visit to China in late January, according to Japanese media reports, could herald more such endeavors, boosting bilateral relations.
Japanese Prime Minister Shinzo Abe sent Toshihiro Nikai, secretary general of the ruling Liberal Democratic Party, to Beijing in May to attend the Belt and Road Forum for International Cooperation on behalf of the Japanese government. Takaya Imai, Abe's executive secretary and close confidant, was also in the Japanese delegation and met with Chinese State Councilor Yang Jiechi. Yang, in turn, visited Tokyo in late May, co-chairing the fourth round of China-Japan high-level political dialogue with Japan's National Security Adviser Shotaro Yachi.
President Xi Jinping and Abe held talks on the sidelines of the G20 Summit in Hamburg, Germany, in July. And Abe made a surprise appearance at a gala hosted by the Chinese embassy in Tokyo on Sept 28 to celebrate China's National Day (Oct 1) and the 45th anniversary of the normalization of the China-Japan diplomatic relations, becoming the first sitting Japanese prime minister to do so in 15 years.
On the sidelines of the Asia-Pacific Economic Cooperation Economic Leaders' Meeting in Danang, Vietnam, in November, Xi urged Abe to take more "practical actions" to improve ties with China and manage differences between the two sides in a "constructive way". The two leaders, in effect, agreed to make a "new start" in bilateral relations.
Moreover, Premier Li Keqiang met with Abe on the sidelines of China-ASEAN leaders' meeting in Manila in November, saying the China-Japan relationship is showing some positive changes, although sensitive factors continue to haunt bilateral ties. Li added that the two countries should continue making efforts to improve their relationship, so as to achieve new development.
December witnessed frequent contacts between the two countries. Delivering a speech at the dialogue between Japanese and Chinese business executives in Tokyo last month, Abe said he believed "Japan will be able to cooperate well with China".
On Dec 5-6, China and Japan held the eighth high-level consultation on maritime affairs in Shanghai, and are expected to again hold talks on the "hotline between Chinese and Japanese defense officials", in Japan this year.
December also saw the secretaries general of LDP and Komeito-Toshihiro Nikai and Yoshihisa Inoue-visiting China. And in an interview with the newspaper Mainichi Shimbun on Dec 24, Japanese Chief Cabinet Secretary Yoshihide Suga described Tokyo-Beijing ties as being "smooth", saying a path for improving relations has been created.
This year marks the 40th anniversary of the signing of the China-Japan Treaty of Peace and Friendship. But the two countries still have differences on many issues, which are stumbling blocks in their ties.
Mutual mistrust, which runs deep, is hindering the development of Beijing-Tokyo ties. In a poll conducted by Japanese nonprofit think tank Genron NPO last month, more than 88 percent of the Japanese respondents said they had an unfavorable impression of China, and 66.8 percent of the Chinese surveyed said they had a negative view of Japan. The Chinese respondents who said they had a favorable impression of Japan rose by 9.8 percentage points to 31.5 percent from the 2016 poll, with more than 60 percent of the Chinese people, who have visited Japan saying they have a favorable view of Japan.
The opinion poll shows the more the peoples of the two countries communicate, the better they will understand each other. It applies to officials as well.
The author is China Daily Tokyo bureau chief.
caihong@chinadaily.com.cn
Most Viewed in 24 Hours
China stories