Military hones its skills in exercise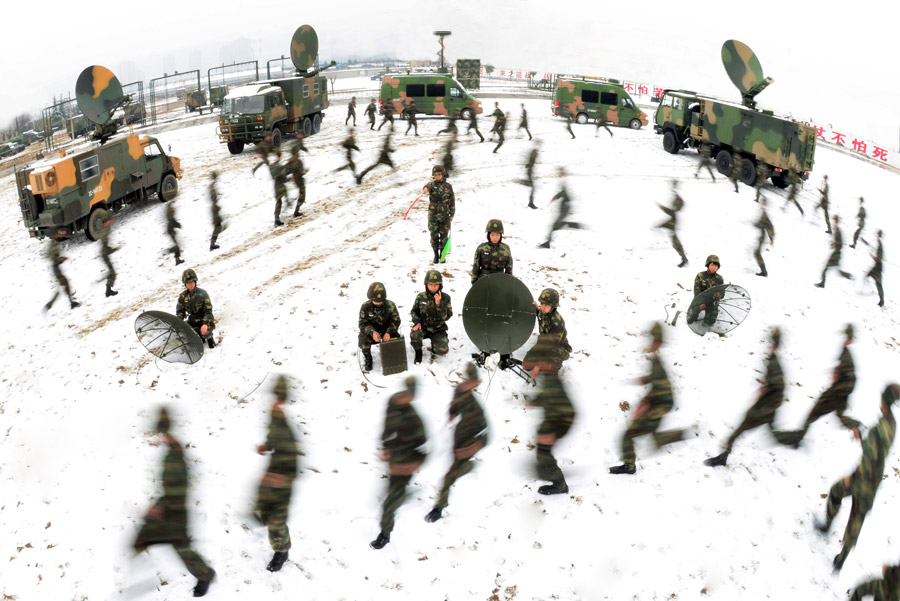 China's military has conducted more than 4,000 realistic combat exercises since President Xi Jinping, chairman of the Central Military Commission, launched the annual training program on Wednesday.
More than 4,000 training grounds nationwide from all branches of the People's Liberation Army, including the Ground Force, Navy, Air Force, Rocket Force, Armed Police and logistic forces, have begun their annual exercises, Xinhua News Agency reported.
On Wednesday morning, after a short ceremony, Ground Force battalions and aviation corps from the snowy forests in northern China's Heilongjiang province immediately began a realistic war game exercise.
"It's unprecedented to jointly train with aviation units on the same day of the launch," said Xu Jiqiang, a tank specialist who has participated in annual training 15 times.
The Ground Force training is also moving from sole ground combat to a comprehensive system that incorporates both ground and air units, he added.
At a naval dock in the South China Sea, officers and soldiers loaded troops and equipment onto vessels, immediately dispatched ships, and practiced repelling plane and missile attacks from the air, according to Xinhua.
At the same time, officers onboard submarines in the East China Sea were shouting combat commands, simulating a real attack scenario where they had been detected by an enemy submarine.
Thousands of meters above ground, dozens of fully loaded Chinese warplanes from northern China practiced dogfights, ground-target missile strikes and long-distance travel in the blistering cold.
Yang Junqi, an officer with the PLA Air Force who led the flight team, said all the training was based on real combat standards. "The battle starts the moment the plane takes off," he said.
The Rocket Force practiced emergency formation and volley firing using missile carriers, aiming to become a strategic force that is accurate and devastating whenever necessary.
At a logistics base, more than 360 troops pledged their allegiance to the national flag before a day of intensive repair training. Sheng Wugang, a military engineer from the base, said the training added new malfunctions and other emergencies to test troops' ability to deal with the most dire and extreme situations.
In the cold Xinjiang Uygur autonomous region, armed police officers were conducting wilderness survival and reconnaissance training across the barren desert, snowy plateaus and mountainous valleys.
While all the exercises were going on, all five theater commands of the PLA were on duty and closely monitoring the training in their regions. Zhang Qingfeng, an officer from the Western Theater Command, said: "The military is only as effective as the command it receives."
The commanders should focus on strategy, research and training for wars, and must understand how to cooperate and win wars with other branches of the military, he said.