Midwife pens graphic guide to childbirth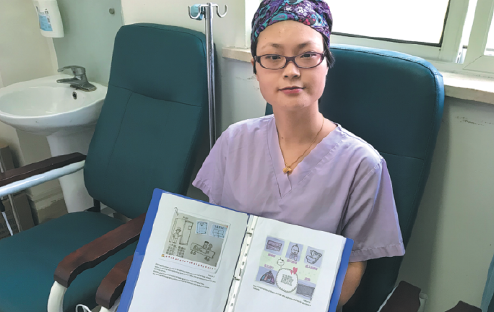 For many women, childbirth can be a stressful and confusing experience. The situation is worse if communication is difficult - such as if the mother speaks a foreign language, or is unable to hear or speak.
Zhang Xin, a midwife at the Shanghai First Maternity and Infant Hospital, has come up with a solution - a graphic booklet that shows the preparatory steps and processes during childbirth.
The 24-year-old, who graduated from the Shanghai University of Medicine and Health Sciences in 2014, drew the cartoons herself.
"Over the past three years as a midwife, I've experienced several cases when it has been difficult to communicate with the mother," Zhang said.
For example, she has received expectant mothers from ethnic groups who speak only their local dialect and can't understand Mandarin or English.
"Anxiety is high in such a situation, and I really think this can be solved," she said.
One day, Zhang read an article online about an anesthetist who drew comics for patients having difficulty communicating.