US moves threaten to foil Sino-US trade ties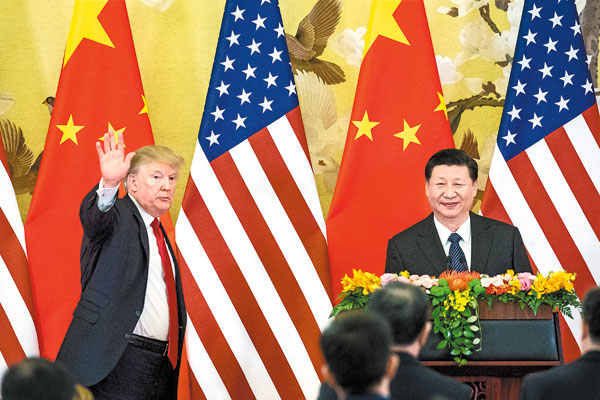 There were a lot of uncertainties a year ago over China-US trade and investment ties given what Donald Trump had said during his presidential campaign, in particular his claim that he would impose 45 percent punitive tariffs on imports from China and name China a currency manipulator.
Neither of these has happened so far. Indeed, President Trump handled the relationship quite well in 2017.
One highlight was the good personal relationship built between Trump and President Xi Jinping, after their in-depth meetings in Mar-a-Lago, Florida, in April, in Beijing in November and during the G20 Summit in Hamburg, Germany, in July and several telephone conversations.
The two countries have become more interdependent and are now each other's largest trade partner. China is already the largest market for US agricultural products. The lifting of a 13-year ban on US beef exports to China has excited many ranchers in the United States. More than 300,000 Chinese students are studying in US colleges and universities and 3 million Chinese tourists visited the US in 2016.
In November, China announced it will further open its financial sector, by allowing foreign investors to own majority stakes in securities firms, investment management companies and life insurance providers. In the same month, China announced it will cut import tariffs of a wide range of consumer goods.
With 300 million middle-income consumers, and the number still growing, the potential for expanding trade and investment ties between China and the US, and indeed between China and the rest of the world, is enormous.
Recent moves taken by the Trump administration, however, have cast a shadow on the relationship.
On Tuesday, the Committee on Foreign Investment in the United States rejected a $1.2 billion deal by China's Ant Financial to acquire US money transfer company Money-Gram International Inc on the grounds of national security. It is just the latest of several large deals that have been blocked by CFIUS.
Meanwhile, the US Congress has introduced the Foreign Investment Risk Review Modernization Act of 2017 in a bid to expand the power of CFIUS, targeting primarily investment from China.
In August, US Trade Representative Robert Lighthizer initiated a Section 301 investigation into China's intellectual property policy and practice, a move inconsistent with the World Trade Organization's rules. In November, the US Commerce Department self-initiated anti-dumping and countervailing duties on Chinese common alloy aluminum sheets. In the same month, the US formally notified the WTO that it opposes granting market economy status to China.
There has also been much talk lately that the Trump administration will take more tough measures on the China trade and investment front in 2018. This sounds likely given that 2018 is the midterm election year and everything in the US will again be deeply politicized.
China has been relatively patient so far. But if the US continues down the current path, it will trigger tit-for-tat retaliations that would hurt people and businesses not only in both countries, but aslo the entire world. Many economists have warned that a US trade war with China is a trade war with East Asia given the economic integration in the region.
Some US journalists have accused President Trump of making China great. It seems that to them making China great is bad for the US. The truth is that China and the US, given their interdependence, should both become great.
Former US treasury secretary Larry Summers described it well when he said that he could not foresee a future in which China does well and the US does not, or vice versa.
China and the US both stand to gain from cooperation and lose from confrontation. Some people in the US just need to change their zero-sum mentality.
The author is deputy editor of China Daily USA.
chenweihua@chinadailyusa.com
Most Viewed in 24 Hours
China stories