Forest campaign to keep green dream on course
Share - WeChat Major projects to help achieve target of 23% coverage by 2020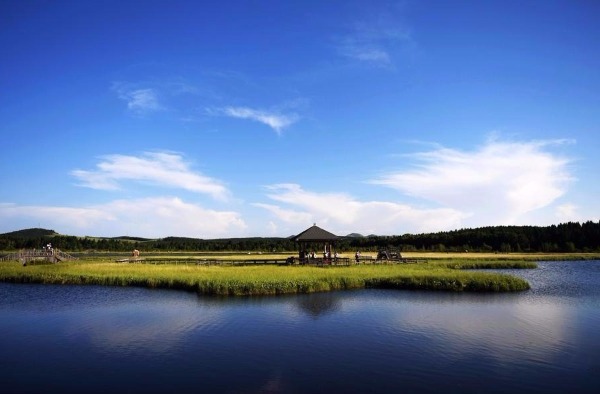 China will launch a massive land greening campaign to raise the country's forest coverage to 23 percent by 2020, the top forestry official said on Thursday.
Two large forest protection projects, each covering an area of at least 66,600 hectares, will be promoted this year, according to Zhang Jianlong, head of the State Forestry Administration.
He said three new State forest farms with a total area of 482,000 hectares will also be built in Xiongan New Area in Hebei province, Hunshandake Desert in the Inner Mongolia autonomous region, and Huangshui Valley in Qinghai province.
Moreover, the plan aims to raise forest coverage to 26 percent and rural green coverage to 38 percent by 2035. By then, 75 percent of the country's sandy land will be under control, Zhang said.
"Companies, organizations and talent that specialize in greening work are all welcome to join in the country's massive greening campaign," he said.
"Cooperation between government and social capital will be put on the priority list," he added.
The forest coverage rate in China was 21.6 percent by the end of 2017, according to the administration.
An area of 33.8 million hectares of forests has been grown nationwide in the past five years, increasing the country's forest area to 208 million hectares.
"China sits in top place in the world in terms of newly grown forest area during the past five years. We're aiming to grow another 6.66 million hectares this year," Zhang said.
He said natural forest harvesting for commercial use is prohibited, protecting 129.6 million hectares of natural forests nationwide. The country has more than 2,200 natural reserves, covering 13 percent of its total land area.
Wetlands, which play a crucial role in ecological restoration, have also been well protected, with 28 provinces and municipalities having released regulations on their protection.
At the end of 2017, China had 898 national wetland parks, 233,333 hectares of wetland had been restored, and the country's wetland protection rate had been increased from 43.5 percent in 2013 to 49 percent.
"In addition to supportive policies, new technologies will be crucial to whether the plan will be achieved or not. Scientific solutions will be promoted," said Liu Dongsheng, deputy director of the forestry administration.
In the past five years, the central government has invested more than 538 billion yuan ($82.8 billion) in its forests, an increase of 36 percent over the previous period, according to official data.
About 5,000 forestry innovation technologies had been developed during that period, and more than a half of them have been put into commercial use.
In 2017, forestry industry output reached 7 trillion yuan, with an export value of $150 billion, according to the administration. The greening work boosted the local economy through tourism and the planting of trees.
"Under the new plan, multiple indexes and standards should be scientifically introduced to guide the implementation work," said Liu Xinchi, head of the Hubei Provincial Forestry Department.
"More grassroots workers should be encouraged to contribute their experiences and ideas to draft those standards."