Great Wall, Hadrian's Wall sign heritage pact
A new partnership of organizations that look after the Great Wall of China and Britain's Hadrian's Wall aims to boost tourism and the historical and cultural understanding of the monuments.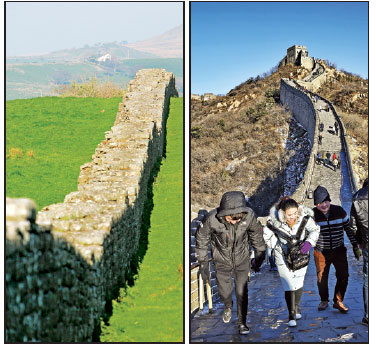 Historic England and the Chinese Academy of Cultural Heritage have signed an agreement that the United Kingdom government calls the first of its kind and part of a new way to manage heritage sector growth.
John Glen, UK undersecretary for arts, heritage and tourism, said it is a "perfect example of how heritage can be used to strengthen international partnership, grow tourism and build a truly global Britain".
Both walls were added to the UNESCO World Heritage Site list in 1987.
The collaboration started after conservation of the two walls became a key topic of talks in Beijing and Xi'an in February 2017 and was discussed during the UK-China People-to-People Dialogue in Britain in December.
Duncan Wilson, chief executive of Historic England, said he was looking forward "to a fruitful collaboration" with the Chinese Academy of Cultural Heritage.
Heritage, he said, has been affirmed as important "to creating great places, to the economy, to communities, and to our well-being".
Zhang Yimeng, an expert with the research and protection office at the Chinese Academy of Cultural Heritage, said the collaboration will cover such areas as mutual visits of professionals, training, seminars and translation of academic publishing.
He said a seminar is to be held in March in Newcastle, England, to exchange experiences in protection and management of the walls. It will be the first step in a wider program of collaboration.
"Though the functions of two walls were different, their structures look very similar," including the presence of watchtowers, said Zhang, who visited Hadrian's Wall in October.
Zhang said China's protection program has strong support and guidance from the central government, while Britain does a good job mobilizing social efforts and public consciousness.
"They also have good displays at the site and good museum exhibitions," Zhang added.
The UK heritage sector contributed 987 million pounds ($1.3 million) to the British economy in 2016, an annual increase of 7 percent. It employs 278,000 people.
Hadrian's Wall, 117 kilometers long, was built by the Roman army as a way to control its frontier. It was constructed on the orders of Emperor Hadrian following his visit to Britain in AD 122. The wall crosses the north of England and was designed to keep out Pictish tribes that lived in what is now part of Northern England and Scotland.
The Great Wall was built from the third century BC to the Ming Dynasty (1368-1644). It is the longest structure ever built at 21,196 kilometers.
Contact the writers at boleung@mail.chinadailyuk.com