Backpackers opened villagers' eyes to region's tourism potential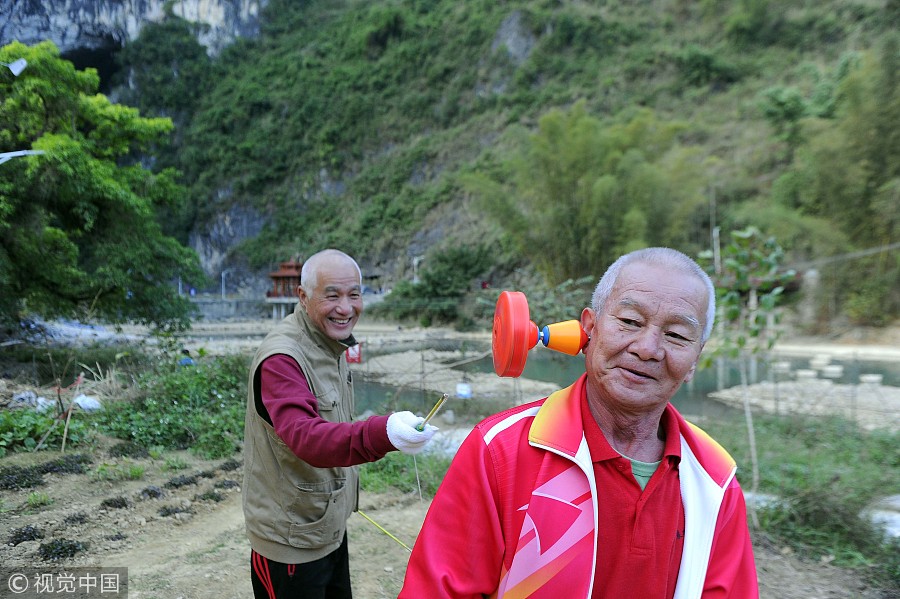 "The lobbying was an arduous battle-eight mouths versus more than 200," said Huang Dashan, Party chief of the Pona village committee, recalling the difficulty he and seven colleagues had to persuade the villagers to demolish their old adobe homes in 2005 to make way for new home inns.
Pona, a mountainous hamlet in South China's Bama, Guangxi Zhuang autonomous region, is known as the home of longevity-about 100 centenarians live among its 250,000 residents-instead of poverty, though half its people lived on less than $1 a day just six years ago.
Most of Pona's 200-some farmers were among the disadvantaged. Huang attributes the poverty to Pona's isolation.
Although Bama is just 130 km from the nearest city, Baise, it takes at least four hours to get there along the road meandering through the mountains.
Pona lies at the heart of the Bama longevity region. People were content with their hand-to-mouth existence.
Their main food was corn. Some lived in houses built with mud, wood and stone a century ago, Huang said.
In 2005, flocks of backpackers visiting the cave and river caught Huang's attention and he proposed at a meeting of the village's eight members of the Communist Party of China, including him, that Pona should develop tourism.
The proposal was adopted and received funding from the county government and bank loans, which the village committee devoted to helping the villagers build new houses.
But it was unimaginably difficult to persuade the farmers to abandon their old homes and lifestyle, because they couldn't believe poor, boring Pona could attract visitors. Finally, some people agreed to give it a try, and the success of their home inns soon resolved others' doubts.
In three years, Pona's average annual personal income went from about 1,000 yuan ($151) to 20,000 yuan.
"The committee's foresight turned the mountains and river that locked us up for generations into tangible benefits and guaranteed the healthy growth of our business," said Wei Shiyu, a villager with a home inn.
In peak season, tourists in the village greatly outnumber the villagers.
"We don't compete with each other. The village unites to run the management. We share the profits," said Huang Long, a villager who runs an eatery.
Pona now has 62 home inns, which increase the owners' income by 30,000 yuan a year on average.
The village had about 500,000 tourist visits last year, and the average personal income reached 23,000 yuan.
Pona is just one among hundreds of villages in Bama turning to tourism or agricultural cooperatives to lift the people out of poverty.
The county government invests heavily in public services. Last year, 85 percent of its expenditures went to improving people's livelihoods.
The impoverished population went from more than 130,000 in 2010 to fewer than 50,000 this year. Bama vows to eliminate poverty by 2020 by attracting investors and inspiring the farmers to better use the local resources.