A success story weaved out of true dedication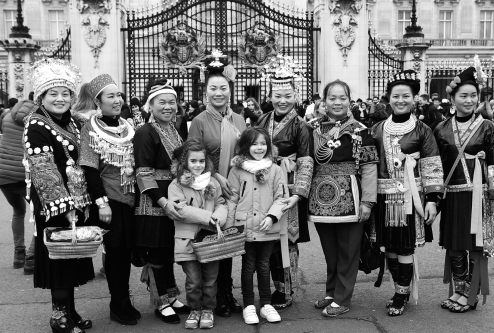 Travel outside China? An impossible dream, or so Wei Qinghua, now 51, thought when she was a teenager. Wei, from the Dong ethnic group in the Guangxi Zhuang autonomous region, has seen her embroidery skills realize her dream and the entry stamps of many countries, in Europe and elsewhere, are in her passport.
But one particular trip, to London, was special as her embroidery works were received by Vice-Premier Liu Yandong during an exhibition.
The two-day exhibition, named Weaving the Threads of Culture and Time, featuring traditional Chinese handicraft jointly held by China's Ministry of Culture and the Chinese embassy in London, attracted thousands of viewers.
The year 2017 marked the 45th anniversary since China and the UK established ambassadorial-level diplomatic ties. The exhibition, which opened on Dec 7, was part of the events celebrating the anniversary. Wei, together with three other women of the Miao ethnic group from Sanjiang county in Guangxi, displayed hundreds of their works at the exhibition with many winning international awards.
Having traveled from her hometown to London, Wei's delicate embroidery artwork amazed visitors to the exhibition, and received accolades from Liu.
The approach of improving people's lives through embroidery and lifting them out of poverty is a noble aim but it also ensures that skills are handed down to future generations, Liu said at the event.