Port worker takes pride in job, duty as delegate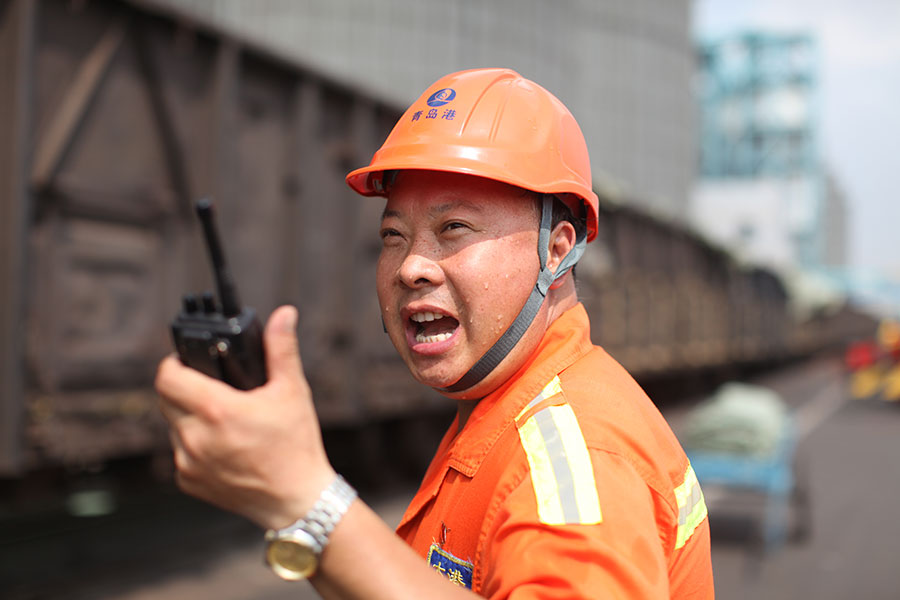 Pi Jinjun, 45, is a stevedore at the Port of Qingdao in East China's Shandong province. He has helped improve efficiency and safety at work, but perhaps a duty that evokes more pride is that as a delegate to the 19th National Congress of the Communist Party of China, his second time in such a role.
Pi, who began working at the port in 1991, said he and his team have set four world records in loading and unloading paper pulp.
"The 'sweat economy' has gone and innovation ability is important for our blue collars," said Pi, who began bagging bulk cargo and now has climbed the ranks to deputy director of a loading and unloading team at the port.
As a delegate to the 18th and 19th CPC National Congresses, Pi said the two-time honors belong to all industrial workers across the country.
"Every word General Secretary Xi Jinping said in his report to the 19th National Congress of the Communist Party of China has echoed in our industrial workers' minds," Pi said.
He said there were 71 rounds of applause during Xi's report to the congress and the cheering was especially strong when he referred to the "Chinese dream".
Pi and his colleagues are realizing their Chinese dream by building a prosperous port. "During the past five years, the Port of Qingdao followed the CPC Central Committee's instructions and aimed at being a world-class port with innovative and constructive steps," said Pi.
At his first assignment, which required extreme physical effort, he worked 12 hours every day and shouldered more than 200 metric tons of cargo. By the end of the week, his skin was worn and scabbed over on both arms.
Soon after, he found his team was less efficient than others. To catch up, he read books, learned of others' experiences. Finally, he invented a "five-step" method improving many working details such as bagging, sewing and hooking.
Originally, each bagging move required 12 seconds. But his method helped reduce that to nine seconds. His team took advantage of the time saved to bag 350 tons more of cargo a day.
"The new method also guaranteed work safety. Besides, every colleague on my team can earn 500 yuan ($76) more each month," Pi recalled.
As a man constantly pursuing efficiency and excellence, Pi made more than 400 proposals in the past 26 years, with more than 100 of them adopted by port officials to optimize port operations. Pi was called the "Master of Ideas" by some colleagues, and many services at the port have been labeled with his name, such as Jinjun zhuangche (in-trucking), Jinjun guanzhuang (bagging), Jinjun dongyu (fish-freezing) and Jinjun dajian (large item to handle).
Now, the Port of Qingdao has a yearly cargo capacity of over 500 million tons, ranking it seventh in the world. Its container operation is the fastest in the world. The port has been connected with the world through more than 170 routes and welcomes over 700 ships monthly, more than the total numbers of all ports in North China.
The port's Dongjiakou area has an ore dock with 400,000 tons of capacity and a crude oil dock with 450,000 tons of capacity. The cargo port's old area has been upgraded to a first-class cruise terminal.
"The port's revenue and profit have kept double-digit growth in the past three years and our industrial workers have a new look, thanks to the Party's brilliant policies and the port's decision to upgrade the industry," Pi said.
Asia's first fully automated terminal was put into commercial operation at the Port of Qingdao in May. Domestic experts spent only three years-usually a task taking eight to 10 years in foreign countries-to complete the terminal. After a half-year in operation, its single machine can finish 30 units per hour, leading the world.