Bans help replenish sea fish stocks
Share - WeChat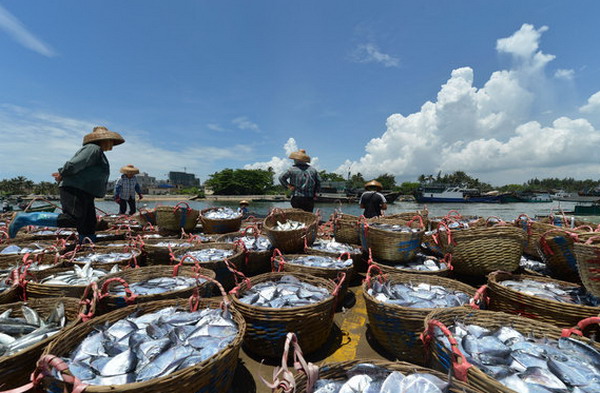 Fish stocks off the Chinese coast have been effectively replenished this year due to successful bans, the Ministry of Agriculture said on Tuesday.
Surveys conducted in August by institutes including the Chinese Academy of Fishery Sciences showed resources had increased greatly compared with early May, when the bans were imposed, Zhang Xianliang, head of the ministry's Fishery Administration Bureau, said at a news conference.
Fish resources increased by 190 percent over the period in the Yellow Sea and Bohai Sea, more than tripled in the East China Sea, and increased by 70 percent in the South China Sea, he said.
The fishing ban, which started on May 1, covered the entire Bohai Sea, the Yellow Sea, the East Sea and the South China Sea north of 12 degrees latitude, the ministry said in January.
The duration of the ban varied from three months to four and a half months, with parts of the Yellow Sea and East Sea under the ban until Sept 16.
This year's ban was the longest since they were first imposed in 1995. Only pole fishing was allowed during the ban. The enforcement against illegal fishing has been the strictest in years, with more than 10,300 people punished, Zhang said.
In addition, 1,593 people were handed over to police for possible criminal penalties for fishing ban violations in inland waters, including the Yangtze River and parts of the Yellow River, Zhang said.
In one case, two people, surnamed Qi and Wang, were sentenced to eight months and six months respectively in August for fishing with electrical devices in a major reservoir in Beijing. They caught 29.7 kilograms of fish on May 20, the ministry said.
Liu Xinzhong, deputy head of the ministry's Fishery Administration Bureau, said China will strictly control the size of its deep ocean fishing fleet, and fewer than 3,000 Chinese fishing boats will operate in deep waters by 2020.
Meanwhile, "China will establish a blacklist for companies and individuals that violate fishing laws and regulations in deep waters, so they will be forbidden from fishing for a certain period of time", Liu said.
wangxiaodong@chinadaily.com.cn