Chinese-Hungarian art focus of new exhibition in Budapest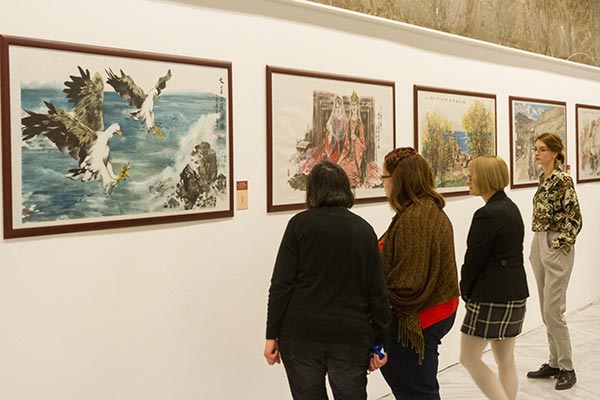 A new art exhibition titled Cultures and Generations: Founders and Heirs of Chinese and Hungarian Modern Art, featuring 100 paintings and sculptures, is currently running at the National Szechenyi Library in the Hungarian capital of Budapest.
"In recent years, cultural cooperation between China and Hungary has intensified in many areas, and in this context, many cultural events have come to fruition," says Peter Hoppal, state secretary for culture at the Ministry of Human Resources of Hungary.
"The closer cultural relations that go hand in hand with ever-expanding economic cooperation are young but intense."
This is largely the result of the opening-up policy introduced by the Hungarian government, which is cooperating with the Belt and Road Initiative, he adds.
"China's thousands of years of culture and its insightful philosophy-based decorative art have always been exciting for Hungarians, who are now increasingly eager to learn Chinese as well," he says.
At the same time, China is happy to discover Hungarian art, as highlighted by the recent exhibitions of works by Hungarian painter Mihaly Munkacsy and the treasures of the Hungarian National Museum held in China, Hoppal says.
The central figure of the exhibition in Budapest is Chinese ink artist Xu Beihong, who studied in Europe during his early years. "He brought back the essence of European art with him to China, which he combined with local art traditions. His special style had a great impact on the next generations of artists," says Chinese Ambassador to Hungary Duan Jielong.
"Sino-Hungarian relations are blossoming in ways never seen before, including cultural cooperation."
In 1933-34, Xu organized a large-scale exhibition of more than 300 Chinese paintings ranging back from the Tang (618-907) and Song (960-1279) dynasties until the 20th century, in five major European cities, according to Liao Honghua, secretary-general of the Xu Beihong Art Committee, one of the organizers of the ongoing show.
"Today, we feel more profoundly than ever that only the mutual recognition of culture and the arts can enable us to cooperate and develop more effectively," Liao says.
The current exhibition not only draws a parallel between Hungarian and Chinese artists and their works, but also sheds light on the relationship between masters and their disciples, and their role in the two different cultures.
In addition to Xu's paintings, works by Hungarian artists from the same generation, such as Bertalan Szekely, Istvan Csok and Istvan Szonyi are on display until Jan 12.
The exhibition is jointly organized by the Xu Beihong Art Committee, the National Szechenyi Library, the Hungarian University of Fine Arts and the Sino-European Foundation for Culture and Education.