BRICS Literature Forum facilitates more cultural exchanges
Share - WeChat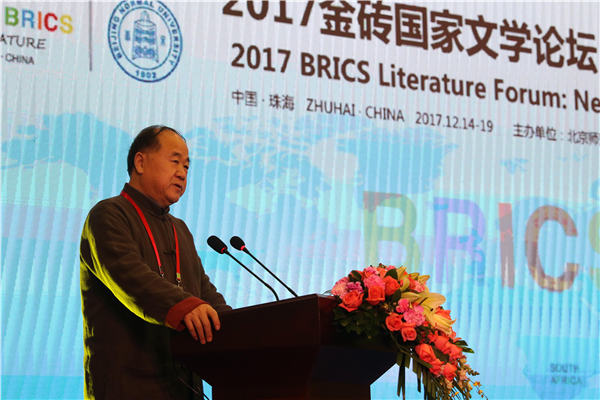 Following the fruitful BRICS National Summit held in Xiamen, Fujian province in September, South China was greeted by another international cultural gathering last week in Zhuhai of Guangdong province, marking a big step toward literary communication among the BRICS nations of Brazil, Russia, India, China and South Africa.
Taking place on the Zhuhai campus of Beijing Normal University, the forum invited nearly 40 writers and scholars from all five BRICS countries to share their voices and inspire new thinking on the future of both domestic and world literature.
New era, new experience, new vision
In the keynote speech by novelist Mo Yan, the Nobel Prize laureate proposed a new vision for world literature that centers on its unadorned appeal to humanity.
"Our world has witnessed a lot of transformations in the past four decades. Old experiences and understandings were overturned. But puzzles just seem to keep coming. It's the calling of every generation of writers to figure out a new way of writing."
Mo then quoted his late friend Shi Tiesheng, a renowned Chinese novelist with a paralysis of both legs, that "infinity is created in our minds. Only by looking into our hearts can we truly find a new perspective, a new story."
Jidi Majia, vice-chairman of the Chinese Writers Association, added a layer of cultural significance to the cooperation among BRICS countries. "BRICS, which represents great vitality and a bright future, has made its name in the global community," he said.
"Regular communication should penetrate various aspects of our nations, especially for cultural exchanges. As President Xi once said, we should 'create a community of shared future for mankind.'"
Translation fosters transnational literature
To enhance cross-cultural literary exchanges, translation and translator must build bridges overcoming language barriers. Joao Cezar de Castro Rocha, president of the Brazilian Association of Comparative Literature, placed the task of translating at the center of transnational literatures.
"Translators' work goes across cultures and literatures," Rocha said. "For instance, two Brazilian writers, Machado de Assis and Haroldo de Campos, introduced many Chinese traditional poems to Brazilian readers based upon translations from other languages. I think this is a key element in transnational literatures."