Barca win 3-0 in Madrid to put one hand on Spanish league title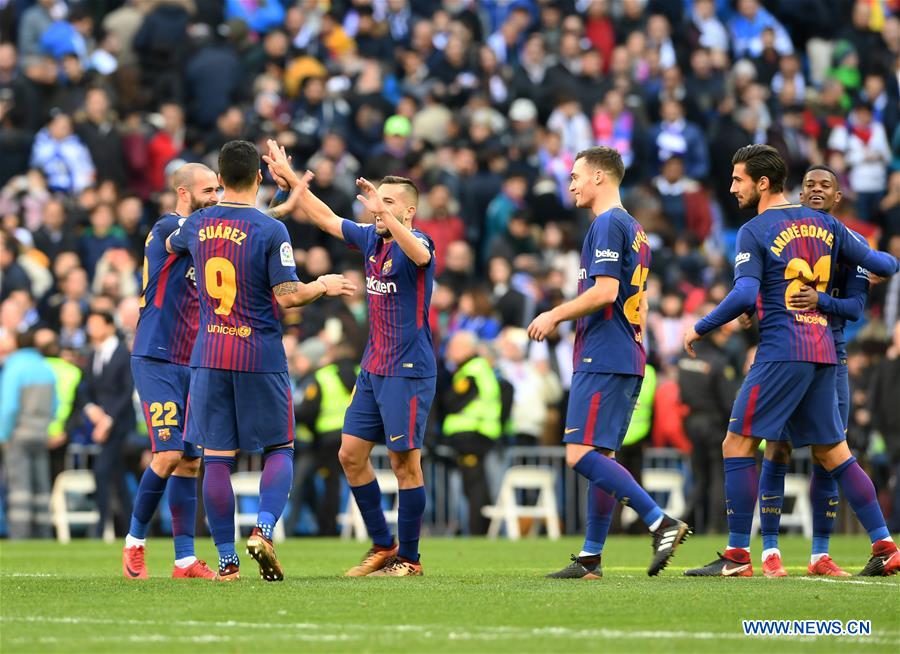 MADRID - Although the season is less than halfway completed, FC Barcelona on Saturday put one hand on the title, while at the same time humiliating traditional rivals and reigning champions Real Madrid 3-0 in the Santiago Bernabeu Stadium.
The win leaves Barca 14 points ahead of Real Madrid in the Liga Santander table and puts them nine points clear of second place Atletico Madrid after just 17 of the 38-match season.
The game kicked off at 13.00 hours local time: prime time in the Middle East and Asia, but early for Spain and for the first 45 minutes, it was Real Madrid who were on top.
Madrid coach Zinedine Zidane surprised with a conservative team selection which saw Mateo Kovacic drafted into a four-man midfield with the task of covering Leo Messi.
In the first half, Zidane's strategy worked as Madrid pressured Barca and the Catalan side looked to play the ball out of defense, but the plan fell apart in the 54th minute after Ivan Rakitic fed Sergi Roberto, whose low cross was swept into the Madrid net by Luis Suarez for his 10th goal of the campaign.
Barca were suddenly running rampant and the game was over as a contest in the 64th minute when Madrid defender Dani Carvajal handled a goal-bound shot in the Madrid penalty area.
Carvajal was sent off for his action and Messi stepped up to slam the ball past Keylor Navas in the Madrid goal.
With a player less on the pitch and 2-goals down, Madrid fell apart and had it not been for several fine saves from the Madrid keeper the score would have been even more humiliating for the home side.
As it was there was still time for a third Barca goal, which was slid home by Aleix Vidal following a Messi pass deep in injury time. The goal was the icing on the (Christmas) cake for Barca, but for Madrid fans only served to hammer home that for this season at least, their title hopes look to be over