40 million hungry due to conflicts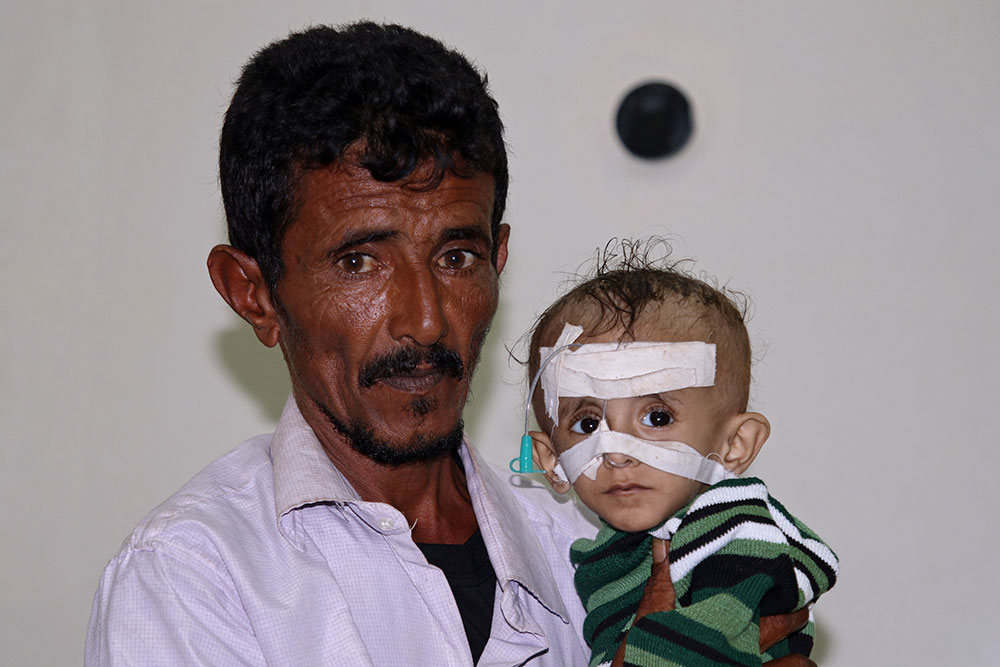 Some countries spend up to 60 percent of GDP to cope with wars
CAIRO - More than 40 million people are suffering hunger in the Near East and North Africa region due to wars and conflicts, according to the latest 2017 report of the Food and Agriculture Organization on food security and nutrition in the region.
Released on Thursday, the report states that 40.2 million people are suffering undernourishment and hunger, while some 55.2 million are experiencing severe food insecurity due to conflicts.
The NENA countries are mostly Middle Eastern and Arab states, including Egypt, where the FAO regional headquarters is based, Syria, Iraq, Yemen, Libya, Sudan, Saudi Arabia, the United Arab Emirates, Kuwait, Bahrain, Qatar, Oman, Jordan, Lebanon, Mauritania, Tunisia, Algeria, Morocco and Iran.
"This year, the FAO report shows that conflicts are the main reason behind the deteriorating conditions of food security and nutrition in the NENA region, as over 40 million people are suffering hunger in the region with 75 percent of them living in five war-torn states," said Abdessalam Ould Ahmed, FAO's regional chief for NENA and the organization's assistant director general.
The region has been the most tense worldwide throughout history. Since the so-called Arab Spring uprisings that started about seven years ago and toppled some powerful Arab leaders, turmoil has further hit Syria, Iraq, Libya and Yemen, with Lebanon suffering political instability and the Palestinian-Israeli peace process facing a deadlock.
The FAO 2017 report states that 27.2 percent of all people of NENA's war-affected countries were chronically hungry, or undernourished, during the 2014-16 period, highlighting Syria, Iraq, Yemen and Libya as "hot spots" of regional conflicts.
Taking Syria as an example, the country's ongoing crisis that erupted in March 2011 has claimed the lives of about half a million and displaced and wounded over 14 million others.
"The costs of conflicts and wars are not restricted to the level of food security but it also extends to the human level, as the NENA region includes the largest number of displaced people, and the issue has its large social and economic impacts too," Abdessalam Ould Ahmed, FAO's regional chief, said after releasing the 2017 report in Cairo.
Ahmed emphasized that the losses to agriculture in Syria, for example, have been estimated at $16 billion, due to war.
"There are some countries that spend 20 to 60 percent of their GDP on coping with wars and violence, which is such a high cost," he lamented.
The only solution
The FAO report highlighted peace in this region as the only means to eradicate hunger by 2030, which is one of the UN millennium development goals agreed on by world states.
Undernourishment and malnutrition, which are widely spreading in the region due to civil wars and conflicts over the past few years, have caused the United Nations World Food Program to dedicate half its annual budget to NENA suffering states.
Since March 2015, a Saudiled Arab alliance has been launching airstrikes against Iran-backed Shiite Houthi rebels in Yemen, a group that helped overthrow Yemeni President Abd-Rabbu Mansour Hadi and killed former president Ali Abdullah Saleh after he turned against them.
The Yemeni crisis has left some 20.7 million people in need, over 2 million internally displaced, according to the report of the UN High Commissioner for Refugees released on Dec 18.
"The WFP along with its partners provide food aid for more than 7 million people in Yemen and over 6 million in Syria and its neighboring states, in addition to several other Arab states and countries in the Middle East and North Africa," said WFP regional director Muhannad Hadi, noting that the WFP budget for 2018 is $9 billion.
"Unfortunately, due to the ongoing conflicts, more than half the WFP budget goes to the Middle East region and the Arab world. For example, we need more than $1 billion for Yemen and the same amount for Syria in the coming year," he said.