Trash sorting paying off for Zhejiang
Dealing with 500,000 metric tons of trash produced nationwide every day is a pressing problem for China. Yet, in villages in Zhejiang province, sorting and recycling has proved an effective way to cut the amount of trash.
Two trash bins - one green and one yellow - stand in front of Wu Dawen's house for trash sorting.
Every day, the 54-year-old who lives in the village of Liujiaotang in the city of Jinhua throws biodegradable garbage into the yellow bin and nonbiodegradable waste into the green one. A cleaner comes twice a day to transport the biodegradable garbage to the village's compost facility and recover recyclable trash in the green bin to sell to a recycling company.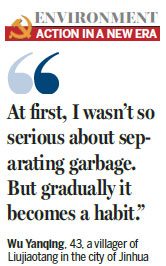 The trash that's nonrecyclable and nonbiodegradable is buried in landfills or incinerated at trash plants.
Years ago, Wu said, he had to burn the trash himself and throw the kitchen waste into the field.
"Now it's better and easier and sorting trash made our environment cleaner," he said.
Wu is just one among hundreds of thousands of villagers in Jinhua who have participated in a trash-sorting and recycling program since 2014.
In the past three years, over 2,200 compost facilities were built in Jinhua, and the trash-sorting program covers more than 98 percent of villages.
The compost facility was designed by Zhejiang University's College of Environmental and Resource Sciences and uses germs to turn biodegradable garbage into organic fertilizer every two months.
The investment for each facility is around 100,000 yuan ($15,200) and its operation costs 2,000 yuan yearly, but it can reduce up to 70 percent of the garbage produced in a village, according to Tao Chenghua, the city's former deputy Party chief, who came up with the trash-sorting and recycling program.
But it isn't enough to just build the facility - the sorting program involves a change in people's mindset, he said.
"We took advantage of the closeness of society in the villages, where everyone knows each other and cares about their reputation. We set up lists to make the trash-sorting evaluation public," Tao said.
"The names of both those who did well in trash sorting and those who didn't do well appear on the village's billboard, and that raises people's participation."
Party members also took the lead, visiting homes to spread the idea of sorting.
"At first, I wasn't so serious about separating garbage," said villager Wu Yanqing, 43. "But gradually it becomes a habit, and I remind my husband to do the same."
The sorting program brought economic benefits as well.
About 60 percent of the trash no longer needs to be transported to the landfill or incineration plant, which saves around 300 yuan for each metric ton of garbage and prolongs the life of the landfill by five years.
In the first three quarters of the year, Jinhua's growing agricultural tourism attracted 19 million visitors drawn by the beautiful rural scenery and clean environment, generating 1.4 billion yuan in revenue, according to the city's government.
Jinhua is just one of the province's model cities in trash sorting. Around 11,000 villages in the province have started similar programs.
"Garbage problems come with rapid economic growth, and sorting is key to the reduction of trash," said Fu Xiaofeng, deputy secretary-general of the Zhejiang provincial government.
Through this year's third quarter, Zhejiang produced a daily average of 68,000 tons of trash, up 4.6 percent from the same period in 2016.
"We will continue to implement trash sorting across the province, aiming to curb the growth rate of trash to zero by 2020," Fu said.
xingyi@chinadaily.com.cn