World's longest glass bridge ready to open
Share - WeChat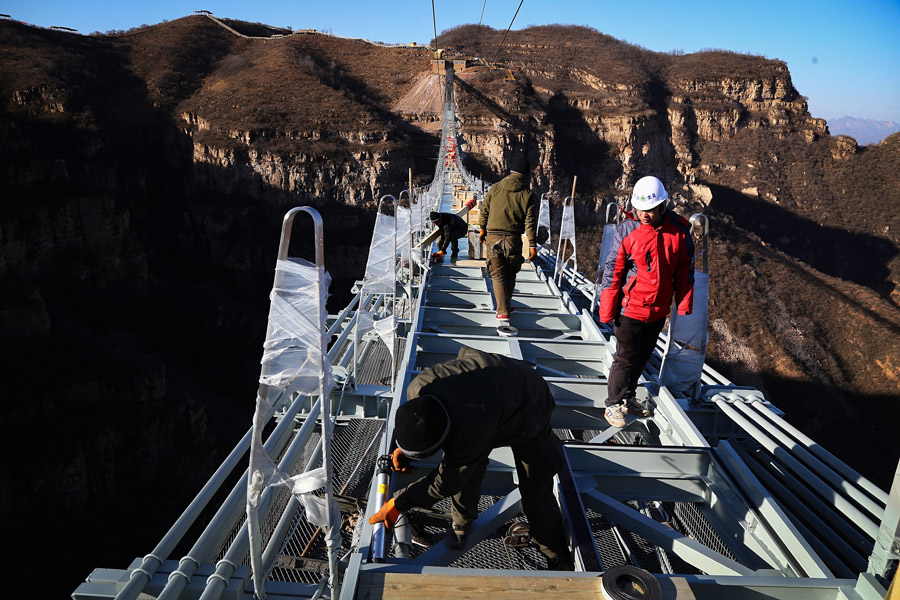 The world's longest glassfloor bridge will open to the public on Sunday in Shijiazhuang, Hebei province.
The bridge, which stretches 488 meters, is 2 meters wide and hangs 218 meters (about 66 stories) above the valley floor between two steep cliffs in the Hongyagu Scenic Area in Pingshan county.
It is paved with 1,077 panes of transparent glass, each 4 centimeters thick, and weighs a total of 70 metric tons.
The sky bridge is designed to swing a little while visitors walk to its center, creating a thrill for visitors, according to Hebei Bailu Group, the local tourism company that built the bridge.
While walking on the bridge, tourists can enjoy the surrounding Hongyagu scenery, which boasts a unique geographic landscape with mountain views, natural waterfalls, ancient towns and temples.
The bridge was designed to support up to 2,000 people, though it's expected that only 500 will be on it at one time, said Liu Qiqi, director in charge of construction.
"The bridge's load-carrying capacity is as much as 3.5 times the country's standard for bridges. Besides, we only allow 500 people on it at most," Liu said.