Revisiting Guizhou after 22 years
Former radio host compares poor province from 22 years ago with how it is now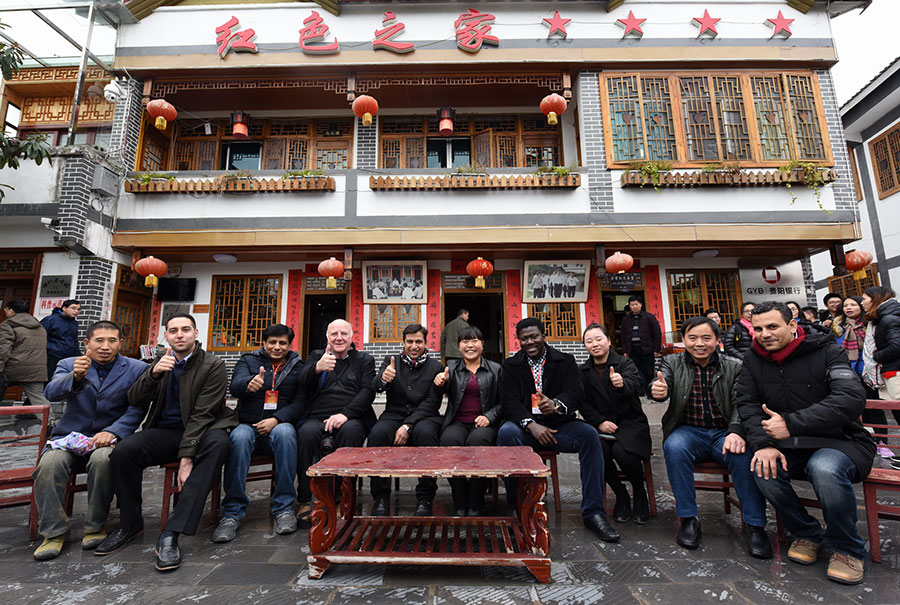 Bruce Connolly couldn't stop taking photos during the 40-minute journey from the airport to the center of Zunyi, a city in the southwestern province of Guizhou, even though many of his fellow travelers fell asleep as soon as they got on the bus following a three-hour flight from Beijing.
The trip, which began on Nov 21, was the first time in 22 years Connolly had visited the province. In 1995, he took a journey from Beijing to Kunming, capital of Yunnan province, which led him through Guiyang, Anshun and Liupanshui in Guizhou.
Later, he embarked on rail journeys that took him across the central and southwestern parts of the province, and even though he never stayed in Guizhou during his travels, he said he noticed the disparities in living standards between the fast-growing cities on China's East Coast and the mountainous, impoverished province.
In 1987, Connolly left his native Scotland to work as a broadcaster for Radio Beijing International, where he hosted his own program, Bruce in Beijing, from 2004 until it ended last year. The work enabled him to travel around China and share his experiences with a global audience.
"Accepting the invitation to participate in a 'Long March of the New Era' with other foreign experts gave me a precious opportunity to really explore Guizhou," he said, referring to the Red Army passing through the province during the Long March (1934-36).
"To be honest, I was still expecting to see lingering rural poverty, but my preconceptions were quickly dispelled upon arrival. The places gave way to a new area of modern universities, high-tech zones and real estate development. It was a far cry from what I had imagined."
Traditionally one of the least developed and poorest provinces, mountainous Guizhou posted economic growth of 10.5 percent last year, the third-highest among the country's 23 provinces, five autonomous regions and four municipalities.
The figure was far higher than for national growth, which was 6.7 percent. Moreover, the Milken Institute, a think tank in Santa Monica, California, ranked Guiyang, the provincial capital, as China's best performing city of 2016.
Since 2011, Guizhou has maintained strong economic momentum, and in 2015 it posted GDP of more than 1 trillion yuan ($152 million) for the first time.
When he joined a panel discussion with delegates from the province at the 19th National Congress of the Communist Party of China in October, President Xi Jinping spoke highly of Guizhou's achievements during the past five years in areas such as infrastructure construction, poverty reduction and environmental protection.